Chess problem: 9 days ago
Like chess? Come on daily, and try to solve these free online chess games. These chess problems should help you to improve your chess strategies or tactics.
Bruno's Chess Problem: 06/16/2022
W.Addison, Chess, 1946
Mate in 2

(***)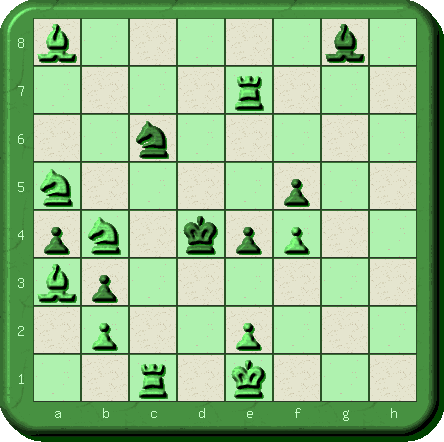 White to play
Tip:
Level : * (very easy) to ****** (very hard)

1. Nd5

!

... 2. Rd1

#


1... Bxd5, Nxa5, Ne5 2. Bc5

#


1... Nb4 2. Rc4

#




2022-06-16 09:13:20, by

problemist

"Away, you scullion! you rampallian! you fustilarian! Iíll tickle your catastrophe." William Shakespeare (1564-1616), "King Henry IV, Part II" act II, sc. i, l. 67.

Normal moves like 1. Nbxc6+?, Rc3? fail to 1.. Ke3!, Bc4! The give-and-take key is the N-sacrifice 1. Nd5 (2. Rd1#) Bxd5, Nxa5, Ne5 2. Bc5#; 1.. Nb4 2. Rc4#. "W. Addison's first problem." And maybe also his last as no further problems are listed in yacpdb.

No data found on the composer.
Since the opening in October 2000, I had published online more than 6650 free chess problems. If you want more details, look at my chess figures pages.
Connection
Search
Navigation
Bruno's
Chess Problem of The Day


(c) 2000-2022 My-Free-Games.com .. Privacy PolicyAll rights reserved. Reprinting, other using of materials of this site requires a reference to it or to the author.