Like chess? Come on daily, and try to solve these free online chess games. These free online chess problems should help you to improve your chess strategies and tactics.
Each day I offer you a different free online chess problem with various difficulties. One day you will have to solve an easy checkmate in 2 and the day after a very difficult free online chess problem in 2 or a checkmate in 6.
News!
All pages of the site are now in https for a better security.
Best, you could now move pieces on chessboard! (In Board settings, select 32 pixels, Moving pieces)
New: You could move pieces with drag & drop OR clik, so you could now move pieces on your mobile.

New: Now, you could select the size of your chessboard with moving pieces (24, 32 or 48 pixels).

Feel free to up any problem with contact form.
Bruno's Chess Problem: 03/26/2019
E.Lautschrei, Ottawa Citizen, 1887
Mate in 2 (**)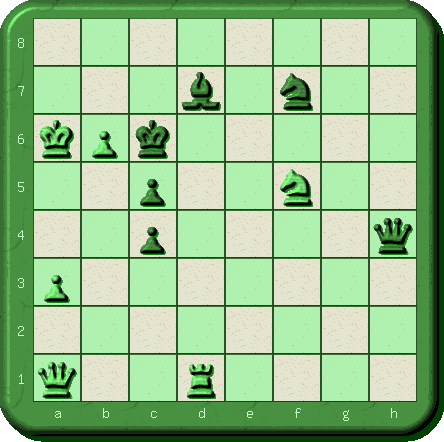 White to play
Tip:
You could change chessboard skin (menu All Checkmates/Settings)

2019-03-26 10:44:04, by

problemist

"Remember not the sins of my youth, nor my transgressions: according to thy mercy remember thou me for thy goodness' sake, O LORD."

2019-03-26 09:42:13, by

slowbut2

re 2019-03-26 03:58:02, by schmerl and 2019-03-26 05:52:00, by problemist -- some mercy, please

2019-03-26 05:52:00, by

problemist

Good chess puzzle by the female composer Miss Emma Lautschrei. The key sacrifices the wQ threatening 2. Qa8# and on 1.. Qd8 2. Qh1# so all four corners of the board are visited by the wQ. On moves of the bN 2. Rd6#. On 1.. QxQ, Be8(Bc8+) 2. Ne7#, QxB#. First published in The Philadelphia Times (418) 1884-02-17 and reprinted in The Chess Players' Chronicle, 23 September 1885, also in Chess-nut Burrs by Will H. Lyons, 1886, also in The Ottawa Citizen, 1887.

2019-03-26 03:58:02, by

schmerl

1. Qe5? Bc8+!

2019-03-26 01:42:42, by

slowbut2

before my seeing comments: My solution [arrived to through the 32-pixel moving-pieces setting and submitted in a style the honorable problemist was imitating on 2018-11-09 08:29:17]: to mate with queen [or rook\knight] after some black move, white's qefive starts

Since the opening in October 2000, I had published online more than 6650 free chess problems. If you want more details, look at my chess stats pages.