Free online chess problem of the day
Like chess? Come on daily, and try to solve these free online chess games. These free online chess problems should help you to improve your chess strategies and tactics.
Each day I offer you a different free online chess problem with various difficulties. One day you will have to solve an easy checkmate in 2 and the day after a very difficult free online chess problem in 2 or a checkmate in 6.
Bruno's Chess Problem: 08/11/2020
W.Speckmann, Die Schwalbe, 1954
Mate in 5

(****)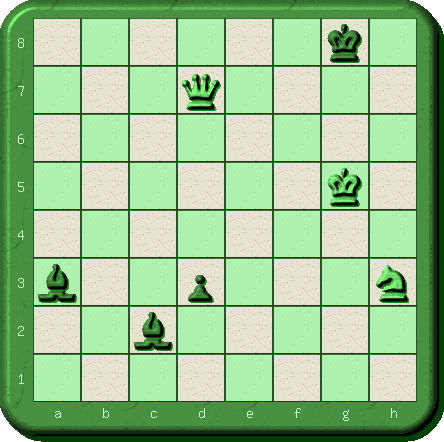 White to play
Tip:
Solutions to the chess problem of the day will be made available the following day.

2020-08-11 09:30:14, by

problemist

1st Prize. A logical miniature. Not 1. Kg6?, Kh6? d2+, Bf8+ (Bc1+). The key is 1. Kf6 to decoy the bBa3 1.. Bb2+ 2. Kg6 d2+ 3. Kh6 (4. Qe8#) Kf8 4. Qd8+ Kf7 5. Ng5# model mate. Reprinted in Speckmann's "Strategie im Schachproblem" (1958) , No. 192, and in his "Schachmatt in 4 und mehr Zügen" (1993), No. 287, with the following comment: "Dem Hauptplan 1. Kh6? (1.. Kf8 2. Qe8+ Kf7 3. Sg5#) stehen noch zwei Hindernisse entgegen 1.. Lf8+ und 1.. Lc1+. Diese werden nacheinander durch zwei Vorpläne ausgeschaltet: Das erste mit 1 Kf6 Lb2+ durch römische Lenkung des La3; statt von f8 kann er dann später nur von g7 aus, wo er mit Matt geschlagen wird, verteidigen. Das zweite dann durch Hinlenkung des (dabei einen Sperrwechsel - hier: Bi-Valve - für die Läufer bewirkenden) Bd3 nach d2, womit dieser dem La3 die Verteidigungslinie nach h6 verstellt. Den Höhepunkt bildet dann die (schon im Probespiel anzutreffende) in ein Modellmatt mündende Mattführung auf den Zug des sK nach f8, in welcher der bis dahin weit vom Schuß auf der Lauer liegende Springer den Schlußpunkt setzt."

Werner Speckmann (* 21.8.1913 in Dortmund, † 23.2.2001 in Hamm) German composer and International Master, see wikipedia de, it, lv, ru. "International Judge, he was a specialist of miniature logical problems. He wrote "Strategie im Schachproblem" in 1958, "Das logische Schachproblem" and "Schachminiaturen" in 1965, "Kleinste Schachaufgaben" in 1970. He composed mostly miniatures and was the editor of the problem section of the "Deutsche Schachzeitung" from 1973 till 1988. He was also interested in fairy chess and was the inventor of the fairy piece "Superpawn". His son Lothar Speckmann (* 1958) maintains the splendid website "Werner Speckmanns elektronische Schachbücher" to his memory. More reading in English (to be found among the "Nachrufe"): His obituary by Colin Russ published in "The Problemist", May 2001." See also the appreciation "Werner Speckmann 100" by Hemmo Axt in "Die Schwalbe," August 2013 (available online).
Since the opening in October 2000, I had published online more than 6650 free chess problems. If you want more details, look at my chess stats pages.
Connection
Search
Navigation
Bruno's
Chess Problem of The Day


(c) 2000-2020 My-Free-Games.com .. Privacy PolicyAll rights reserved. Reprinting, other using of materials of this site requires a reference to it or to the author.