Free online chess problem of the day
Like chess? Come on daily, and try to solve these free online chess games. These free online chess problems should help you to improve your chess strategies and tactics.
Each day I offer you a different free online chess problem with various difficulties. One day you will have to solve an easy checkmate in 2 and the day after a very difficult free online chess problem in 2 or a checkmate in 6.
Bruno's Chess Problem: 08/11/2022
I.Blom, Four men only, 1982
Mate in 5

(****)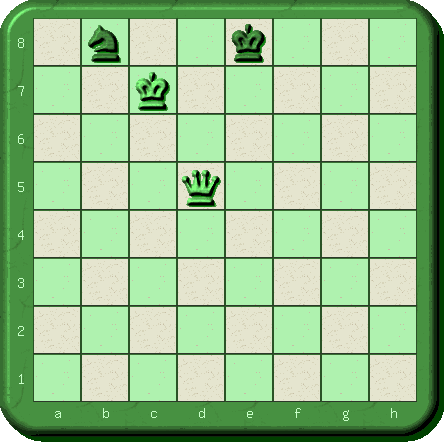 White to play
Tip:
Solutions to the chess problem of the day will be made available the following day.

2022-08-11 08:37:50, by

problemist

"True philosophy must start from the most immediate and comprehensive fact of consciousness: "I am life that wants to live, in the midst of life that wants to live." Albert Schweitzer (1875-1965) French philosopher, philanthropist, physician, theologian, missionary, and musicologist who received the Nobel Peace Prize in 1952. "Philosophy of Civilisation" (1949) Vol. 2 : Civilization and Ethics, "The Civilizing Power of the Ethics of Reverence for Life" Chap. 26.

Things have grown a bit too hot, lately. I take a break until they cooled down again.
Since the opening in October 2000, I had published online more than 6650 free chess problems. If you want more details, look at my chess stats pages.
Connection
Search
Navigation
Bruno's
Chess Problem of The Day


(c) 2000-2022 My-Free-Games.com .. Privacy PolicyAll rights reserved. Reprinting, other using of materials of this site requires a reference to it or to the author.