Chess problem: 8 days ago
Like chess? Come on daily, and try to solve these free online chess games. These chess problems should help you to improve your chess strategies or tactics.
Bruno's Chess Problem: 03/18/2019
F.Davidenko, Sachmaty, 1982
Mate in 3 (**)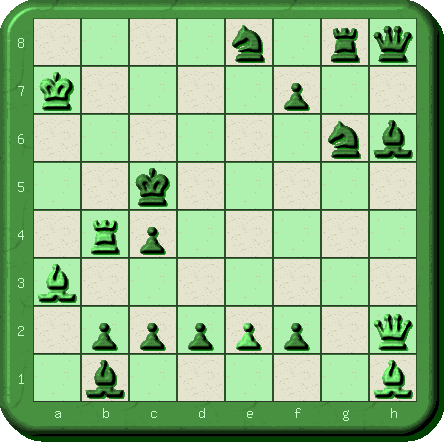 White to play
Tip:
With a register account, you could move pieces and mark mates as started or solved.

1. Qb8

!

... 2. Qb6

#


1... Qf6 2. Rxc4+ Kxc4 3. Qb4

#


1... Kd4 2. Rxc4+ Kxc4 3. Qb4

#


2... Ke3 3. Re4

#





2019-03-18 20:02:51, by

slowbut2

before my seeing comments: My solution [arrived to through the 32-pixel moving-pieces setting and submitted in a style the honorable problemist was imitating on 2018-11-09 08:29:17]: to mate with queen in second move [or after black king \ black queen defence] move then rook check, white's qbeight starts


2019-03-18 18:15:36, by

problemist

A white rook cross with the addition of Loyd's organ pipes is also shown in Davidenko's 1st Prize in '64 Shakhmatnoe obozrenie', 1984, which was awarded the maximum of 12 points in the FIDE Album. This problem was posted for solving by Bruno on May 26, last year.

2019-03-18 07:08:05, by

problemist

There is an error in Bruno's diagram as a bPc6 is missing! Now 1. Qb8 also carries the devaluing threat 2. Qb6# which would be prohibited in the correct version. In it the threat is only the R-sacrifice 2. Rxc4+ Kxc4 3. Qb4#. And on 1.. Qc3, Be3, Bf8 2. Rb5+, Ra4+, Rb3+ (here also the quiet dual 2. e3 works). Shown are model mates and a wR cross. Special Commendation.

Фёдор Васильевич Давиденко (*19.1.1952 in Leninsk-Kuznetsky) Russian composer and International Master, see wikipedia lv, ru.
Since the opening in October 2000, I had published online more than 6650 free chess problems. If you want more details, look at my chess figures pages.
Connection
Search
Navigation
Bruno's
Chess Problem of The Day


(c) 2000-2019 My-Free-Games.com .. Privacy PolicyAll rights reserved. Reprinting, other using of materials of this site requires a reference to it or to the author.