Chess problem: 8 days ago
Like chess? Come on daily, and try to solve these free online chess games. These chess problems should help you to improve your chess strategies or tactics.
Bruno's Chess Problem: 09/10/2019
L.Salai, Hlas Ludu, 1982
Mate in 2 (****)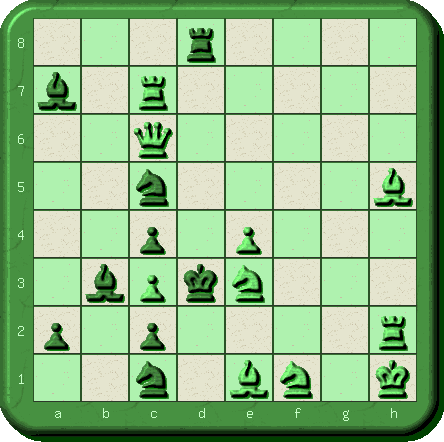 White to play
Tip:
Solutions to the chess problem of the day will be made available the following day.

1. Nxc4

!

... 2. Nb2

#


1... Rd5 2. Qxd5

#


1... Na4, a1=Q/B 2. Ne5

#


1... Bxc4 2. Rh3

#


1... Kxc4 2. Qa6

#




2019-09-11 08:15:28, by

problemist

Thanks for these instructive comments :-)

2019-09-10 22:37:49, by

slowbut2

i liked hearing this somewhere - i guess

2019-09-10 21:53:47, by

schmerl

I found this problem tougher than (**). Problemist, I think Slowbut2 is referring to the song "Don't Rain on my Parade" from the musical "Funny Girl".

2019-09-10 21:21:07, by

slowbut2

hi problemist, i just didn't add :-) at the end. :-)

2019-09-10 17:19:50, by

problemist

I don't quite understand what you mean, slowbut2. In any case, you are free to propose your own rating or solving experience of this problem, but I think you would agree that four stars are way too high :-) It would be interesting to know how Bruno arrived at it as this time there are no black checks :-)

2019-09-10 16:09:02, by

slowbut2

re 2019-09-10 06:44:26, by problemist "(**) suffice" - raining my party, problemist?

2019-09-10 16:07:03, by

slowbut2

before my seeing comments: My solution [arrived to through the 32-pixel, B&W, restartable-moving-pieces setting]: in view of the possibility\s: north-knight mate in second move\ queen-mate from northeast in second move , to mate with east rook after south black-bishop capture [or to mate with queen\ rook\ knight\ ], white's ncfour starts

2019-09-10 06:44:26, by

problemist

Not 1. Nxc2?, Nd5?, Ng4? Na6!, Kxe4!, Nd7! Instead the capturing and flight giving key sacrifices the wN on c4 with the double threat 2. Ne5#, Nb2# and 1.. Kxc4, Bxc4, Rc5 2. Qa6# (pin mate), Rh3# (using the black self block), Qxd5#. (**) suffice.

Ladislav Salai Sr. (* 19.8.1934 in Lučenec, † 25.3.2006) Slovak composer. "He was an orthodox and fairy composer. He invented the fairy condition SAT which is described in details by Juraj Lörinc on his website and he was the editor of the magazine 'Umenie 64'." (From chesscomposers.blogspot.com)
"More than half of his output of around 700 compositions consisted of 2-movers, and he won some 130 tourney honours. He was very active as an editor (of 'Mat-Pat' 1983-96 and 'Umenie 64', 1996-2006), as a tourney judge and as a writer of numerous articles. He was the inventor of the fairy form SAT, of which he composed around 100 examples." (From his obituary in "The Problemist," May 2006)
His son Ladislav Salai Jr. (* 18.1.1961 in Zvolen) is Grandmaster in both composition and solving and a "renowned composer of cyclic problems."
Since the opening in October 2000, I had published online more than 6650 free chess problems. If you want more details, look at my chess figures pages.
Connection
Search
Navigation
Bruno's
Chess Problem of The Day


(c) 2000-2019 My-Free-Games.com .. Privacy PolicyAll rights reserved. Reprinting, other using of materials of this site requires a reference to it or to the author.