Problème d'il y a 9 jours
Vous aimez les échecs ? Venez tous les jours découvrir et essayer de résoudre ces problèmes de mats gratuits. Ces problèmes d'échecs vous aideront à améliorer votre tactique.
Bruno's Chess Problem: 10/04/2019
B.P.Barnes, Il Due Mosse, 1960
Mat en 2 (****)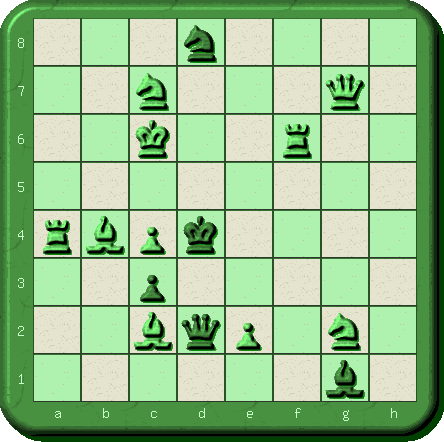 Les blancs jouent
Astuce :
En vous enregistrant, vous pouvez déplacer les pièces et marquer les problèmes que vous avez déjà résolu.

1. Kd7

!

... 2. Rf4

#


1... Kxc4+ 2. Bd6

#


1... Ke5+ 2. Rd6

#





2019-04-10 10:27:57, by

slowbut2

before my seeing comments: My easy-come [and hopefully correct] solution [arrived to through the 32-pixel moving-pieces setting and submitted in a style the honorable problemist was imitating on 2018-11-09 08:29:17]: to exit existent black knight check position then defend king to mate with rook [or bishop\queen\double check] after black king move, white's kdseven starts


2019-04-10 07:39:23, by

problemist

An original problem. 1. Rf4#?? is not legal as the wK is currently checked by bNd8 and has to move. On 1. Kb5?, Kb6? the bQ defends by 1.. Qg5+!, Qh6! so only the move to d7 remains. The cross check mates after the discovered checks 1.. Kxc4+, Ke5+ are changed. Certainly unusual with three subsequent checks in four variations of two phases, so a bonus in the hardness rating is in order, but not more than (***).

Barry Peter Barnes (* 1.8.1937 in Brighton) British composer and International Master, see wikipedia it, lv. "Barry Barnes is a twomover specialist. He wrote "The Two-Move Chess Problem" in 1966 together with John Rice and Michael Lipton. He is also International Judge for twomovers. He has been a problem editor in the british magazines "The Problemist" and the "British Chess Magazine". Barry Barnes is the author of "Advanced Chess Problems and How to Solve Them" (2003), "Complete Mansfield" a three-volume anthology of Mansfield's almost complete output of 1200 problems (1996-99) or "Pick of the Best Chess Problems" containing English Meredith problems."
Depuis l'ouverture en octobre 2000, j'ai publié en ligne plus de 6650 problèmes d'échecs gratuits. Si vous voulez plus de détails, jetez un coup d'oeil à ma page de statistiques.
Connexion
Search
Navigation
Bruno's
Chess Problem of The Day


(c) 2000-2019 My-Free-Games.com .. Vie privéeTous droits réservés. Toute réutilisation de toute ou partie du site nécessite l'autorisation de l'administrateur.