Problème d'il y a 9 jours
Vous aimez les échecs ? Venez tous les jours découvrir et essayer de résoudre ces problèmes de mats gratuits. Ces problèmes d'échecs vous aideront à améliorer votre tactique.
Bruno's Chess Problem: 09/06/2019
M.Marandjuk, V.Cepiznij, 3eme Pr., Sachove Umenie, 1971
Mat en 2 (***)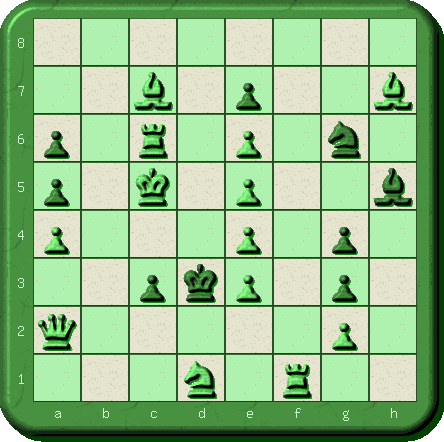 Les blancs jouent
Astuce :
La solution du problème de mat du jour est disponible à partir du lendemain.

1. Kb6

!

... 2. Rxc3

#


1... c2 2. Qxc2

#


1... Kxe4 2. Qc4

#




2019-06-09 10:51:44, by

slowbut2

before my seeing comments: My solution [arrived to through the 32-pixel, B&W, restartable-moving-pieces setting and submitted in a style the honorable problemist was imitating on 2018-11-09 08:29:17]: to mate with north rook after black-knight move [or to queen mate], white's kbsix starts

2019-06-09 09:04:59, by

problemist

Shown is cycle AB-BC-CA of changed mates on 1.. c2, Kxe4 in the tries 1. Bxa5?, Re1? N~! , Nf4! and the solution 1. Kb6! (additionally with 1.. N~ 2. Rxc3#), all of them based on zugzwang. A = Qc4, B = Qd5, C = Qc2.

Михаил Назарович Марандюк (* 17.1.1949 in Novoselytsia) Ukrainian composer and Grandmaster, see wikipedia de, it, lv, ru, uk. "Mikhail Marandyuk is an exceptionally gifted composer, multiple World Champion in chess composition in direct mate sections (threemovers, moremovers)."

Виктор Иванович Чепижный (* 18.2.1934 in Dnipropetrovsk) Russian composer and Grandmaster, see wikipedia de, fr, it, lv, ru. "Viktor Chepizhny is the 12th composer with most points in FIDE albums." "Mike Prcic has published in 2007 a collection of 600 problems of Chepizhny, also with some biographical data. He lives in Moscow since 1959. From 1968-1973 he worked for the chess magazine 64, later he worked for the chess section of the publishing house Fiskultura i sport. From 1982-88 he was vice president of the PCCC and from 1980-89 an official of the central commission of chess composition of the USSR."
Depuis l'ouverture en octobre 2000, j'ai publié en ligne plus de 6650 problèmes d'échecs gratuits. Si vous voulez plus de détails, jetez un coup d'oeil à ma page de statistiques.
Connexion
Search
Navigation
Bruno's
Chess Problem of The Day


(c) 2000-2019 My-Free-Games.com .. Vie privéeTous droits réservés. Toute réutilisation de toute ou partie du site nécessite l'autorisation de l'administrateur.