Yesterday Chess problem
Like chess? Come on daily, and try to solve these free online chess games. These chess problems should help you to improve your chess strategies or tactics.
Bruno's Chess Problem: 09/17/2019
P.P.Broboff, LaPresse, 1899
Mate in 3 (***)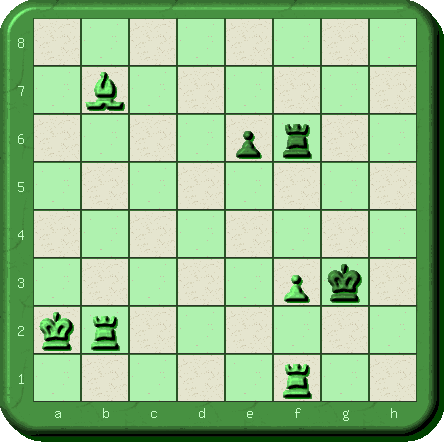 White to play
Tip:
You could change chessboard skin (menu All Checkmates/Settings)

1. f4

!

... 2. Rg2 ... 3. Rh1

#


1... Kg4 2. Rg2+ ... 3. Rh1

#


2... Kf5 3. Rg5

#





2019-09-17 06:29:47, by

slowbut2

before my seeing comments: My solution [arrived to through the 32-pixel, B&W, restartable-moving-pieces setting]: in view of the possibility\s: my solution must have a bug since it was easy and quick to find\ white's second move is north rook to east to be guarded by bishop , to mate with north rook after black-king moves north before borth-rook check followed by black-king move to northwest [or to mate with rooks\ ], white's ffour starts


2019-09-17 06:06:47, by

problemist

An easy Meredith. The K-flight to f4 has to be avoided, so 1. f4 which also opens the diagonal of the wB with the threat 2. Rg2(+) 3. Rh1# and 1.. Kg4 2. Rg2+ Kf5 3. Rg5# using the black self blocks.

Павел Павлович Бобров (* 29.8.1862 in Ryazan, † 23.12.1911 in Moscow) Russian composer, see wikipedia it, ru, "è stato un giornalista, compositore di scacchi e damista russo. Organizzò e diresse il Campionato del mondo 1897 tra Emanuel Lasker e Steinitz."
Since the opening in October 2000, I had published online more than 6650 free chess problems. If you want more details, look at my chess figures pages.
Connection
Search
Navigation
Bruno's
Chess Problem of The Day


(c) 2000-2019 My-Free-Games.com .. Privacy PolicyAll rights reserved. Reprinting, other using of materials of this site requires a reference to it or to the author.