Chess problem: 7 days ago
Like chess? Come on daily, and try to solve these free online chess games. These chess problems should help you to improve your chess strategies or tactics.
Bruno's Chess Problem: 11/07/2019
J.Rasovsky, Casopis ceskych sachistu, 1906
Mate in 3 (****)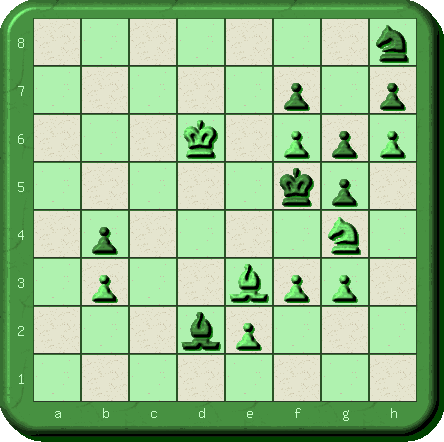 White to play
Tip:
With a register account, you could move pieces and mark mates as started or solved.

1. Ke7

!

... 2. Bd4 ... 3. e4

#


2... Be3 3. Nxe3

#


1... Be1 2. Bc1 ... 3. e4

#


1... Bxe3 2. Kd7 ... 3. e4

#





2019-11-07 06:57:39, by

problemist

The idea is to move away the wB and mate by 3. e4#. But on 1. Kd5?, Kd7? BxB White has no waiting move. Thus in the key the wK moves out of a check to e7 such that on 1.. BxB there is the tempo move 2. Kd7! on a white square and 3. e4# (model mate). On 1.. Bc1, Bc3, Be1 there follow (slightly dualistic) 2. Bd2 (Bd4), Bd4, Bf2 (Bc1, Bd2). Not that hard.

Josef Rašovský (* 6.2.1881, † 18.12.1961) Czech composer.
Since the opening in October 2000, I had published online more than 6650 free chess problems. If you want more details, look at my chess figures pages.
Connection
Search
Navigation
Bruno's
Chess Problem of The Day


(c) 2000-2019 My-Free-Games.com .. Privacy PolicyAll rights reserved. Reprinting, other using of materials of this site requires a reference to it or to the author.