Chess problem: 5 days ago
Like chess? Come on daily, and try to solve these free online chess games. These chess problems should help you to improve your chess strategies or tactics.
Bruno's Chess Problem: 01/12/2022
L.Losinskij, Skakbladet, 1930
Mate in 2

(***)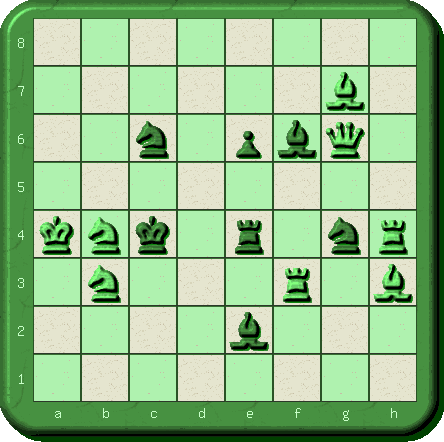 White to play
Tip:
You could change chessboard skin (menu All Checkmates/Settings)

1. Rh5

!

... 2. Rc5

#


1. ... Nce5 2. Qxe4

#


1. ... e5 2. Qf7

#


1. ... Bg5 2. Rc3

#


1. ... Be5 2. Qxe6

#


1. ... Bd4, Be7 2. Nd2

#


1. ... Re5 2. Qc2

#


1. ... Nge5 2. Bxe6

#





2022-01-12 18:25:50, by

problemist

The problem is a task showing 5 black interpositions between the threat piece and the mating square, all on the same square e5. This record was extended to 7 interpositions by Gérard Doukhan (* 1954), Special Comm. "The Problemist" 1974, see No. 418 of Jeremy Morse "Chess Problems - Tasks and Records" 3rd edition, 2016.

2022-01-12 06:43:01, by

problemist

"Poe had an influence on cryptography beyond increasing public interest during his lifetime. William Friedman [1891-1969], America's foremost cryptologist, was heavily influenced by Poe. Friedman's initial interest in cryptography came from reading 'The Gold-Bug' as a child, an interest that he later put to use in deciphering Japan's PURPLE code during World War II." Wikipedia on Edgar Allan Poe (1809-1849).

In view of 1.. Bxf3 the key should threaten mate on the c-file. The try featuring a Q-sacrifice 1. Qg5? (2. Qc5#) has many successful variations but fails to 1.. Be5! The key is therefore 1. Rh5 (2. Rc5#), destroying the halfpin on the 4th rank, and now on the defenses on e5 1.. e5, Nce5, Nge5, Re5, Be5 2. Qf7#, Qxe4#, Bxe6#, Qc2#, Qxe6# using black Grimshaw interferences. On 1.. Bg5, Bd4, Be7 2. Rc3#, Nd2#, Rc3# (Nd2#).

Лев Ильич Лошинский (* 17.1.1913 in Warsaw, † 19.2.1976 in Moskva) Russian composer and Grandmaster, see wikipedia de, el, fi, fr, it, lv, ru. "Lev Loshinsky was perhaps 'the' greatest composer of threemovers." "Il est considéré comme un des plus grands problémistes russes. Spécialiste des problèmes orthodoxes en 2 et 3 coups, il remporta les neuf premiers championnats soviétiques de composition de problèmes en 3 coups (de 1945 à 1968) et quatre championnats de composition dans la catégorie des problèmes en deux coups (1947-1948, 1949-1952, 1953-1955 et 1959-1961) ainsi que le championnat de 1965-1966 dans la catégorie des problèmes en plus de trois coups. Lochinski était professeur de mathématiques à l'Université de Moscou."
Since the opening in October 2000, I had published online more than 6650 free chess problems. If you want more details, look at my chess figures pages.
Connection
Search
Navigation
Bruno's
Chess Problem of The Day


(c) 2000-2022 My-Free-Games.com .. Privacy PolicyAll rights reserved. Reprinting, other using of materials of this site requires a reference to it or to the author.