Chess problem: 5 days ago
Like chess? Come on daily, and try to solve these free online chess games. These chess problems should help you to improve your chess strategies or tactics.
Bruno's Chess Problem: 09/26/2022
L.Kacelson, Problem, 1968
Mate in 2

(**)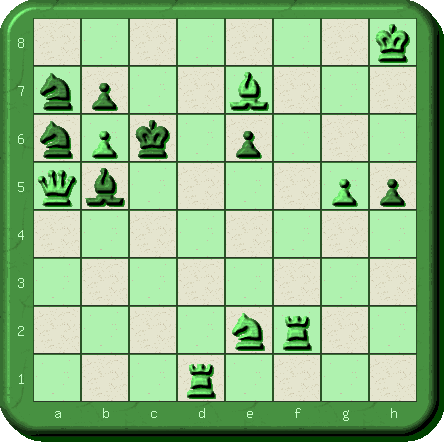 White to play
Tip:
With a register account, you could move pieces and mark mates as started or solved.

1. Rd8

!

... 2. Nd4

#


1... e5 2. Rf6

#


1... Bxe2 2. Rd6

#




2022-09-26 06:18:38, by

problemist

"Small cheer and great welcome makes a merry feast." William Shakespeare (1564-1616), "The Comedy of Errors" act III, sc. i, l. 26.

A twin problem with b) Kc6->g6. In a) 1. Rd8 (2. Nd4#) e5, Bxe2 2. Rf6#, Rd6# and analogously in b) 1. Rf8 (2. Nf4#) e5, Bxe2 2. Rd6#, Rf6# with reciprocal change.

Леонард Ильич Кацнельсон (Leonard Ilitch Katsnelson, * 10.1.1936 in Leningrad) Russian composer and International Master.
Since the opening in October 2000, I had published online more than 6650 free chess problems. If you want more details, look at my chess figures pages.
Connection
Search
Navigation
Bruno's
Chess Problem of The Day


(c) 2000-2022 My-Free-Games.com .. Privacy PolicyAll rights reserved. Reprinting, other using of materials of this site requires a reference to it or to the author.