Problème d'il y a 5 jours
Vous aimez les échecs ? Venez tous les jours découvrir et essayer de résoudre ces problèmes de mats gratuits. Ces problèmes d'échecs vous aideront à améliorer votre tactique.
Bruno's Chess Problem: 12/05/2022
W.Bruch, 2000
Mat en 2

(***)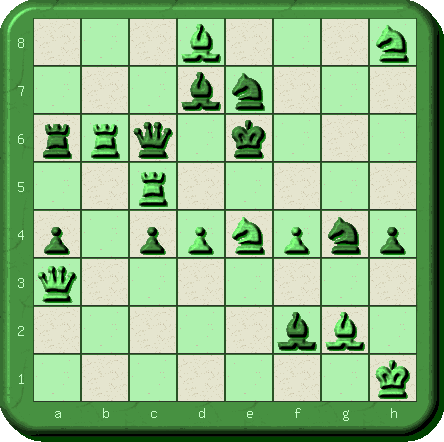 Les blancs jouent
Astuce :
Les archives des problèmes sont consultables pendant une période de 10 jours.

1. Rh5

!

... 2. Qxe7

#


1... Nc8, Ng6, Ng8 2. d5

#


1... Nd5 2. f5

#


1... Nf5 2. Ng5

#


1... Qd6 2. Qxd6

#


1... Ne5 2. Rxe5

#




2022-05-12 06:37:51, by

problemist

"If we shadows have offended, \ Think but this, and all is mended, \ That you have but slumber'd here \ While these visions did appear." William Shakespeare (1564-1616), "A Midsummer-Night's Dream" act V, ii, l. 54.

Pat a Mat, 2nd Prize. This is a twin problem with b) Bg2->c2 showing a Lacny cycle: After the key 1. Rh5 (2. Qxe7#) the mates on the defenses 1.. Ne~, Nd5, Nf5 2. d5#, f5#, Ng5# are cyclically shifted in b) after the key 1. Rcb5 2. f5#, Ng5#, d5# according to the pattern ABC->BCA. Side variations are 1.. Ne5, Qd6 2. Rxe5#, Qxd6#. Additionally white line combination themes and black correction are included. Reprinted in Peter Gvozdják's "Cyclone 2" (2010), No. 1707.

Wieland Bruch (* 20.5.1961 in Berlin) German composer and Grandmaster, see wikipedia de, lv. "Wieland Bruch is a direct mate composer who sometimes explores the field of endgame studies. He was 3rd in the 2004-2006 twomover WCCI and 2nd in the 1998-2000 threemover WCCI. Wieland Bruch collaborates with the Swiss magazine "idee & form". He wrote an article published in a special EG issue in 2008 "Exploring the watershed between more-mover and study". He is also an International Judge."
Depuis l'ouverture en octobre 2000, j'ai publié en ligne plus de 6650 problèmes d'échecs gratuits. Si vous voulez plus de détails, jetez un coup d'oeil à ma page de statistiques.
Connexion
Search
Navigation
Bruno's
Chess Problem of The Day


(c) 2000-2022 My-Free-Games.com .. Vie privéeTous droits réservés. Toute réutilisation de toute ou partie du site nécessite l'autorisation de l'administrateur.