Problème d'il y a 5 jours
Vous aimez les échecs ? Venez tous les jours découvrir et essayer de résoudre ces problèmes de mats gratuits. Ces problèmes d'échecs vous aideront à améliorer votre tactique.
Bruno's Chess Problem: 18/01/2020
M.Marandjuk, F.Davidenko, 1er Pr., Leninska Molod, 1987
Mat en 3 (****)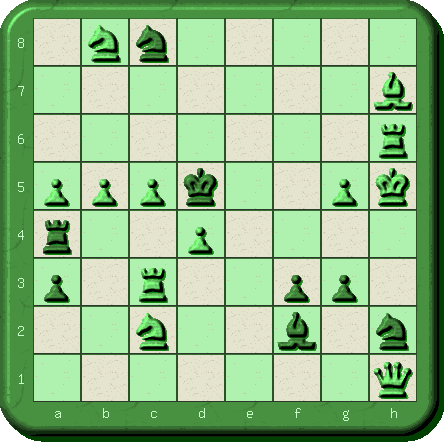 Les blancs jouent
Astuce :
niveau : * (très facile) à ***** (très difficile)

1. Qd1

!

... 2. Qd3 ... 3. Qe4

#


2... Nd6 3. Rxd6

#


2... Rxd4 3. Qf5

#


1... Rc4 2. Re3 ... 3. Bg8

#


2... Nd6, Ne7 3. Re5

#


2... Rxd4 3. Qxd4

#


2... Bxe3 3. Nxe3

#


1... Rxd4 2. Nc6 ... 3. N2b4

#


1... Bxd4 2. Nd7 ... 3. Ne3

#


2... Ng4, Nf1 3. Qxf3

#




2020-01-18 16:32:11, by

problemist

FIDE Album. In this problem some twomover themes are transferred to a threemover. The key is 1. Qd1! with the quiet threat 2. Qd3 and on 1.. Rxd4, Bxd4 2. Nc6, Nd7 but not the other way round as 2. Nd7?, Nc6? fail to 2.. RxQ!, Rc4! This is also the reason why the N-moves fail as keys (with the forced threats 2. Ne7+, Nb6+) resembling the Banny theme from the twomover. A bonus variation is 1.. Rc4 2. Re3 (not 2. Qd3? Bxd4!). There is a further try 1. Qb1? which has forced mates (starting with 2. Ne3+, Nb4+) on the black captures on d4, but fails to 1.. Rc4! So we see a total of three changed continuations on each capture of wPd4 resembling the Zagoruiko theme from the twomover. A wealthy content to unearth, so 4 stars are adequate.

Фёдор Васильевич Давиденко (* 19.1.1952 in Leninsk-Kuznetsky) Russian composer and International Master, see wikipedia lv, ru.

Михаил Назарович Марандюк (* 17.1.1949 in Novoselytsia) Ukrainian composer and Grandmaster, see wikipedia de, it, lv, ru, uk. "Mikhail Marandyuk is an exceptionally gifted composer, multiple World Champion in chess composition in direct mate sections (threemovers, moremovers)."
Depuis l'ouverture en octobre 2000, j'ai publié en ligne plus de 6650 problèmes d'échecs gratuits. Si vous voulez plus de détails, jetez un coup d'oeil à ma page de statistiques.
Connexion
Search
Navigation
Bruno's
Chess Problem of The Day


(c) 2000-2020 My-Free-Games.com .. Vie privéeTous droits réservés. Toute réutilisation de toute ou partie du site nécessite l'autorisation de l'administrateur.