Chess problem: 4 days ago
Like chess? Come on daily, and try to solve these free online chess games. These chess problems should help you to improve your chess strategies or tactics.
Bruno's Chess Problem: 03/22/2019
J.Levrier, Match France Roumanie, 1953
Mate in 2 (**)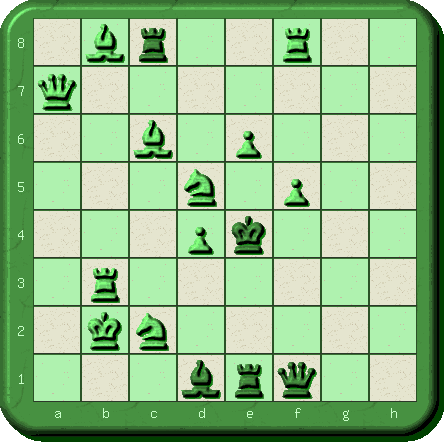 White to play
Tip:
Solutions to the chess problem of the day will be made available the following day.

1. Qg7

!

... 2. Qe5

#


1... Re3 2. Rxe3

#


1... Qf4 2. Nc7

#


1... Qxf5 2. Nf6

#


1... Qd3 2. Nc3

#




2019-03-24 13:39:00, by

problemist

More precisely the Seneca theme is shown: "In tries, White self-interferes his pieces, giving the black King one or more flight squares [1. Nc7+?, Nc3+?, Nf6+? Kf4!, Kd3!, Kxf5!]. In defence, Black self-blocks the potential flights [1.. Qf4, Qd3, Qxf5], allowing white interference (or Theme B2) mates [the checks from the tries are now mates]." (Encyclopedia of Chess Problems) Both in the Encyclopedia and in Udo Degener's "Von Ajec bis Zappas" the example for this theme is today's problem. It is named after the Romanian-French composer Camil Seneca (1903-1977).

2019-03-22 09:57:20, by

slowbut2

before my seeing comments: My solution [arrived to through the 32-pixel moving-pieces setting and submitted in a style the honorable problemist was imitating on 2018-11-09 08:29:17]: to aim north-to-king spot to mate with queen [or bishop\north knight\double check] after some black move, white's qgseven starts

2019-03-22 07:44:59, by

problemist

Reprinted in 'Bulletin Ouvrier des Echecs' (1953) and 'Problem Observer' (2015).

2019-03-22 06:55:02, by

problemist

Shown is the white line combination theme Somov B2 three times in which White closes (on c7, f6, d3) a line of guard (Bb8-f4, Rf8-f5, Rb3-d3) in the mating move after Black has blocked the potential flight square (f4, f5, d3). 1.. Qf4, Qxf5, Qd3 2. Nc7#, Nf6#, Nc3#. The threat being 2. Qe5#. 1st Prize.

The composer is Jean Haymann (* 19.8.1932 in Saarbrücken) Israeli composer and International Master who published this under the pseudonym Jean Levrier. "Jean Haymann initially lived in France and migrated to Israel. He's had, in direct mates and helpmates, a long composing career started 60 years ago and which is still going quite well as his recent successes in 2011 can testify (see the Composing Tourney organized by our Israeli friends last year with excellent comments by judge Paz Einat [cf. the website "Chess Problem Art by Paz Einat," "Composing Tourney - Pre Annual Meeting 2011 - helpmate in 2 moves"])."
Since the opening in October 2000, I had published online more than 6650 free chess problems. If you want more details, look at my chess figures pages.
Connection
Search
Navigation
Bruno's
Chess Problem of The Day


(c) 2000-2019 My-Free-Games.com .. Privacy PolicyAll rights reserved. Reprinting, other using of materials of this site requires a reference to it or to the author.