Problème d'il y a 4 jours
Vous aimez les échecs ? Venez tous les jours découvrir et essayer de résoudre ces problèmes de mats gratuits. Ces problèmes d'échecs vous aideront à améliorer votre tactique.
Bruno's Chess Problem: 20/09/2020
B.Zappas, Al Hamishmar, 1988
Mat en 2

(***)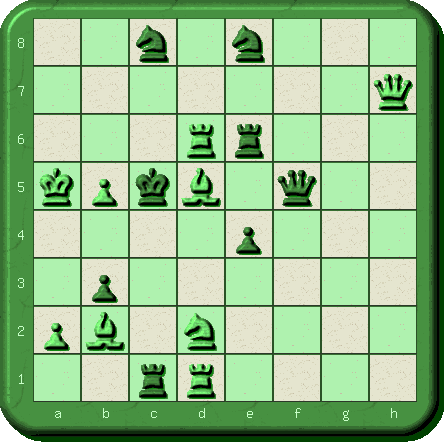 Les blancs jouent
Astuce :
Les archives des problèmes sont consultables pendant une période de 10 jours.

1. Ba8

!

... 2. Ba3

#


1... Ncxd6 2. Qa7

#


1... Nexd6 2. Qc7

#


1... Rxd6 2. Rxc1

#


1... Kxd6 2. Nxe4

#


1... Qd5 2. Rxd5

#


1... Rc4 2. Nxb3

#

2020-09-20 12:08:02, by

slowbut2

before my seeing others' comments: My solution [arrived to through the 32-pixel, B&W, restartable-moving-pieces setting and "(?)"]: in view of the following possibility\s::::::::::::: white knight-double-check mate after black king captures\ \ ,,,,,,,,,,,,,,,,,,,,, it seems [ reverification is intended later on and before seeing others' comments] that white's baeight starts


2020-09-20 08:43:13, by

problemist

FIDE Album. A random move of wBd5 threatens 2. Ba3#, but 1. Bxb3?, Bc4?, Bxe6?, Bc6?, Bb7? fail to 1.. Rc4!, Rxd6!, Kxd6!, Nexd6!, Ncxd6! (the latter four all being captures on d6) which defeat a particular white mate: 2. Nb3#, Rxc1#, Nxe4#, Qc7#, Qa7#, so only the witty move of the wB off into the corner 1. Ba8! works as the wB now does not interfere with any of the white mates (Theme: White combinations). A side variation is 1.. Qd5 2. Rxd5# which always works.

Βύρων Ζάππας (* 6.12.1927 in Athens, † 5.1.2008 in Athens) Greek composer and Grandmaster (since 1993), see wikipedia de, el, it, lv. "Byron Zappas was a player and solver and started composing strategic threemovers. He composed in all genres but mostly orthodox problems. More details about him can be found on Emmanuel Manolas website - among other information, he published, in 1990, the book "Chess Compositions" with selected problems of his, with analysis and explanation of themes."
Depuis l'ouverture en octobre 2000, j'ai publié en ligne plus de 6650 problèmes d'échecs gratuits. Si vous voulez plus de détails, jetez un coup d'oeil à ma page de statistiques.
Connexion
Search
Navigation
Bruno's
Chess Problem of The Day


(c) 2000-2020 My-Free-Games.com .. Vie privéeTous droits réservés. Toute réutilisation de toute ou partie du site nécessite l'autorisation de l'administrateur.