Chess problem: 2 days ago
Like chess? Come on daily, and try to solve these free online chess games. These chess problems should help you to improve your chess strategies or tactics.
Bruno's Chess Problem: 07/01/2020
W.Speckmann, Schach, 1992
Mate in 6

(*****)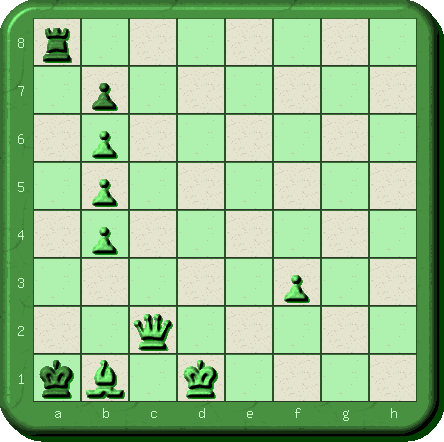 White to play
Tip:
With a register account, you could move pieces and mark mates as started or solved.

1. Ba2

!

... 2. Qb1

#


1. ... Rd8+ 2. Bd5 ... 3. Qa2

#


2. ... Rxd5+ 3. Kc1 ... 4. Qb2

#


3. ... Rc5 4. Qxc5 Ka2 5. Qe3 Ka1 6. Qa3

#




2020-07-01 17:30:35, by

problemist

It seems that one could remove both wPb6 and bPb7 with the same solution and no duals. 8 pieces instead of 10 (both Merediths). Why did the composer not go for it?

2020-07-01 10:22:06, by

problemist

A logical problem with a Roman decoy of the bR that clears the way of the wQ to the 3rd rank avoiding stalemate (by Qc3). I guess the 5th star from Bruno's rating is due to the black checks. The wPf3 stops the cook 2. Kc1 Rc8 3. Qxc8 Kxa2 4. Qh3.

2020-07-01 07:57:14, by

problemist

Black threatens stalemate by 1.. Rd8+ 2. Kc1 Rd1+ therefore only the key 1. Ba2 (threat 2. Qb1# and 1.. RxB 2. Qc1#) works. Now 1.. Rd8+ 2. Kc1? Rc8 3. Qxc8 Kxa2 and the bK escapes via a3 as White cannot block the 3rd row. Better is the sacrifice 2. Bd5! RxB+ 3. Kc1 Rc5 4. QxR Ka2 as now 5. Qe3 Ka1 6. Qa3#. On 3.. Rd1+ 4. Qxd1 Ka2 5. Qa4#.

Werner Speckmann (* 21.8.1913 in Dortmund, † 23.2.2001 in Hamm) German composer and International Master, see wikipedia de, it, lv, ru. "International Judge, he was a specialist of miniature logical problems. He wrote "Strategie im Schachproblem" in 1959, "Das logische Schachproblem" and "Schachminiaturen" in 1965, "Kleinste Schachaufgaben" in 1970. He composed mostly miniatures and was the editor of the problem section of the "Deutsche Schachzeitung" from 1973 till 1988. He was also interested in fairy chess and was the inventor of the fairy piece "Superpawn". His son Lothar Speckmann (* 1958) maintains the splendid website "Werner Speckmanns elektronische Schachbücher" to his memory. More reading in English (to be found among the "Nachrufe"): His obituary by Colin Russ published in "The Problemist", May 2001."
Since the opening in October 2000, I had published online more than 6650 free chess problems. If you want more details, look at my chess figures pages.
Connection
Search
Navigation
Bruno's
Chess Problem of The Day


(c) 2000-2020 My-Free-Games.com .. Privacy PolicyAll rights reserved. Reprinting, other using of materials of this site requires a reference to it or to the author.