Problème d'il y a 2 jours
Vous aimez les échecs ? Venez tous les jours découvrir et essayer de résoudre ces problèmes de mats gratuits. Ces problèmes d'échecs vous aideront à améliorer votre tactique.
Bruno's Chess Problem: 22/01/2020
W.Byas, The Chess Problem, 1946
Mat en 2 (***)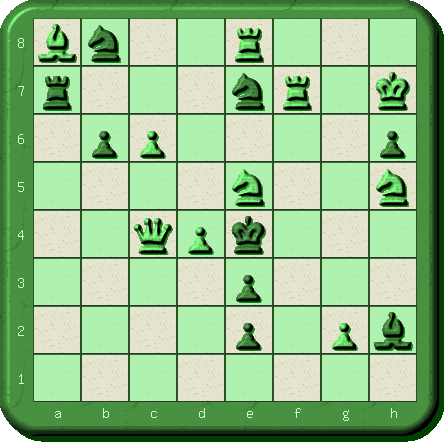 Les blancs jouent
Astuce :
Les archives des problèmes sont consultables pendant une période de 10 jours.

1. g3

!

... 2. Rf4

#


1... Nc8, Ng8, Ng6 2. d5

#


1... Nexc6 2. Nd7

#


1... Nd5 2. Qd3

#


1... Nf5 2. Nf6

#


1... Bxg3 2. Nxg3

#





2020-01-22 18:38:16, by

problemist

From the obituary of Bill Byas by N. A. Macleod, in "The Problemist," November 1983, p. 379-380 (available online):
"Lt. Col. Walter Byas 13 July 1905-15 July 1983. Bill Byas, who had been a member of the BCPS since the 1920s, started composing while serving in India, on the North West frontier. His first problem was published in 1930. His output was small, 73 problems in all - all 2-movers, but every one of his problems was of high quality and many won tourney honours. His favourite
problem was 2Pr, Olympic Tourney 1948 , a superb combination of Black correction and dual avoidance. He did not compose any problems after 1948, though some were published later, possibly because he was not in sympathy.with the modern trends in the 2-mover. On his retirement from the Army he
worked at GCHO, Cheltenham, and played correspondence chess in the BCCS tourneys and for the County team. He was a keen bridge player all his life and was for many years secretary of the Cheltenham Bridge Club."

2020-01-22 07:14:22, by

problemist

Any move of wNe5 threatens 2. d5# but there is 1.. Ra4! So the good and hidden key is quite different blocking the bB with the threat 2. Rf4#. Now any move of bNe7 defends the threat as it pins wRf7. 1.. N~ 2. d5# and the corrections 1.. Nf5, Nd5 are used as self-blocks 2. Nf6#, Qd3#, finally 1.. Nexc6 (self-pin) 2. Nd7#.

Walter Bill Byas (* 13.7.1905, † 15.7.1983) British composer.

2020-01-22 01:23:21, by

slowbut2

before my seeing comments: My solution [arrived to through the 32-pixel, B&W, restartable-moving-pieces setting]: in view of the possibility\s: south-rook mate\ east-knight mate\ , to mate with north rook after south black-knight captures pawn [or mate with queen\ rooks\ knight ] , white's gthree starts

Depuis l'ouverture en octobre 2000, j'ai publié en ligne plus de 6650 problèmes d'échecs gratuits. Si vous voulez plus de détails, jetez un coup d'oeil à ma page de statistiques.
Connexion
Search
Navigation
Bruno's
Chess Problem of The Day


(c) 2000-2020 My-Free-Games.com .. Vie privéeTous droits réservés. Toute réutilisation de toute ou partie du site nécessite l'autorisation de l'administrateur.