Problème d'il y a 2 jours
Vous aimez les échecs ? Venez tous les jours découvrir et essayer de résoudre ces problèmes de mats gratuits. Ces problèmes d'échecs vous aideront à améliorer votre tactique.
Bruno's Chess Problem: 04/07/2020
M.Marandjuk, Prapor Peremogi, 1973
Mat en 2

(**)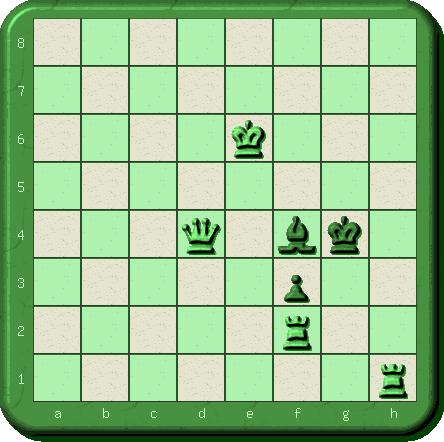 Les blancs jouent
Astuce :
En vous enregistrant, vous pouvez déplacer les pièces et marquer les problèmes que vous avez déjà résolu.

1. Qe4

!


1... Kg5 2. Qf5

#


1... Kg3 2. Qxf3

#




2020-07-04 15:48:46, by

slowbut2

thank you for the glorious reception, problemist


2020-07-04 11:11:16, by

problemist

Welcome back, slowbut2!

2020-07-04 10:39:55, by

slowbut2

before my seeing others' comments: My solution [arrived to through the 32-pixel, B&W, restartable-moving-pieces setting]: in view of the following possibility\s::::::::::::: black king forced to move\ queen start and mate\ ,,,,,,,,,,,,,,,,,,,,, it seems [ reverification is intended later on] that white's qefour starts


2020-07-04 10:08:04, by

problemist

Shown is a split Rukhlis in a miniature setting showing changed and transferred mates in different phases. The mates in the try 1. Qf6? (2. Qh4#) Bg3, Bg5 2. Qf5#, Qxf3# (but 1.. Bh2!) are transferred to the solution 1. Qe4 (zugzwang) Kg5, Kg3. They are changed on these defenses in another try 1. Rfh2? (2. Rg1#) Kg5, Kg3 2. Qg7#, Qg1# (but 1.. f2!). Reprinted in "Shakhmatny zadachi miniaturi," 1987 and "The Problemist," March 2006, p. 349 (available online) in the article "The Scope of the Miniature: Mate Transference and Friends" by Michael Lipton: "The Rukhlis can also be split across three phases. In addition to standard mate transference – with the same two (or more) mates appearing after the key, but after different defences from those in set play or a try – those defences also elicit new mates, not as in the unsplit Rukhlis also post-key, but in a different, third phase. Marandyuk's problem is a fine example. The thematic transferred mates, 2.Qf5 and 2.Qf3, follow BB self-blocks after the try 1.Qf6?, and flights after the key 1.Qe4!; and the mates for these same post-key flights are changed from those after another try, 1.Rfh2?, to the post-key play, completing the split Rukhlis (Stocchi II) theme."

Михаил Назарович Марандюк (* 17.1.1949 in Novoselytsia) Ukrainian composer and Grandmaster, see wikipedia de, it, lv, ru, uk. "Mikhail Marandyuk is an exceptionally gifted composer, multiple World Champion in chess composition in direct mate sections (threemovers, moremovers)."
Depuis l'ouverture en octobre 2000, j'ai publié en ligne plus de 6650 problèmes d'échecs gratuits. Si vous voulez plus de détails, jetez un coup d'oeil à ma page de statistiques.
Connexion
Search
Navigation
Bruno's
Chess Problem of The Day


(c) 2000-2020 My-Free-Games.com .. Vie privéeTous droits réservés. Toute réutilisation de toute ou partie du site nécessite l'autorisation de l'administrateur.