Problème du jour
Vous aimez les échecs ? Venez tous les jours découvrir et essayer de résoudre mes problèmes de mats gratuits. Ces problèmes d'échecs vous aideront à améliorer votre tactique.
Tous les jours je vous offre un problème différent avec une difficulté très variable. Un jour vous pouvez avoir à résoudre un mat en 2 très simple et le lendemain un mat en 2 très complexe ou un mat en 6.
Bruno's Chess Problem: 08/04/2020
S.Herland, Deutsche Schachzeitung, 1905
Mat en 3 (***)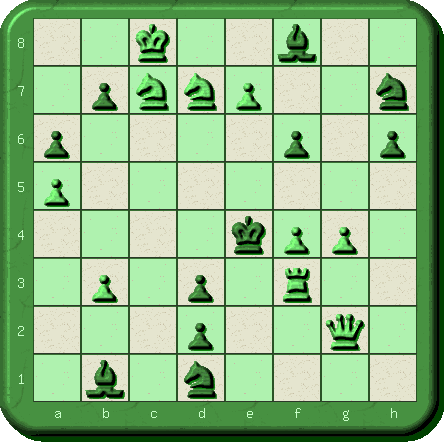 Les blancs jouent
Astuce :
niveau : * (très facile) à ***** (très difficile)

2020-04-08 15:12:51, by

slowbut2

before my seeing comments: My solution [arrived to through the 32-pixel, B&W, restartable-moving-pieces setting]: in view of the possibility\s: black king blocked from moving more north\ rook check from east\ ,,,,,,,,,,,,,,,,,,,,, it seems [ reverification is intended later on] that white's ffive starts - to mate with west knight from most-north northwest after moves: black knight ethree followed by white rook check [or mate with queen from west or other\ knight\ rook\ ]


2020-04-08 07:48:38, by

problemist

Something has to be found on 1.. Kd4. The key 1. f5! allows 1.. Kd4 2. Qxd2. It threatens quietly the N-sacrifice 2. Nd5! (3. Rf4#) Kxd5 3. Rxd3#. On 1.. Ne3, Ng5 follows a R-sacrifice using the black self block 2. Rf4+ KxR 3. Ne6#, Nd5#. Side variations are 1.. Nc3, Nf2 2. Rg3(Rh3)+, Qxf2 3. Ne6#, Rf4#. Not that easy, could be rated by four stars.

Sigmund Herland (* 27.9.1865 in Vienna, † 15.8.1954 in Bucharest) Austrian-Romanian composer and player, see wikipedia en, ru. "A collection of 327 selected problems by Sigmund Herland was published by Ekaterina Yaremska-Iliescu (available online, today's problem is reprinted as No. 37). Sigmund Herland composed in all genres (studies, direct or fairy problems, in Bohemian or strategic style) and was often very creative and original. Sigmund Herland also composed what can be considered as the forerunner of the first cyclic Babson task (composed by Peter Hoffmann, Schach 2005). The story of this problem, published by Alain C. White in the Theory of Pawn Promotion, was evoked by Steven Dowd in his "Skittles" on ChessCafe."
Depuis l'ouverture en octobre 2000, j'ai publié en ligne plus de 6650 problèmes d'échecs gratuits. Si vous voulez plus de détails, jetez un coup d'oeil à ma page de statistiques.
Connexion
Search
Navigation
Bruno's
Chess Problem of The Day


(c) 2000-2020 My-Free-Games.com .. Vie privéeTous droits réservés. Toute réutilisation de toute ou partie du site nécessite l'autorisation de l'administrateur.