M.Niemeijer, Magyar Sakkvilag, 1921
Mate in 2(***)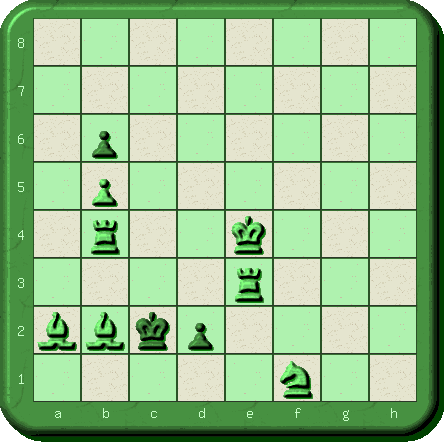 White to play
Tip:
You could change chessboard skin (menu All Checkmates/Settings)

1. Ba3

!


1... Kd1 2. Bb3

#


1... d1=Q/R 2. Rc4

#


1... d1=N 2. Bb1

#




2017-12-11 15:07:46, by

slowbut2

before my seeing comments: My solution: to foresee knight promotion defenses , white's bathree is start before mate

2017-12-11 07:17:42, by

problemist

Mutate in a Meredith setting. On each black move a mate is set 1.. d1Q, d1N, Kd1 2. Rc3#, Re2#, Bb3# but there is no white waiting move to retain them all. So the key by wBb2 creates again zugzwang and changes two of the three mates: 1.. d1Q, d1N 2. Rc4#, Bb1# while the third stays the same. Not that hard. 2 stars suffice. FIDE Album.

Meindert Niemeijer (*18.2.1902 in Rotterdam, +5.10.1987 in Rotterdam) Dutch composer and International Master, see wikipedia de, it, lv, nl, ru. "Niemeijer was a prolific author of 600 chess problems and of over 30 books and brochures. He worked in the insurance business like Wolfgang Pauly and also collected chess books. He gave his 7000-book collection to the Koninklijke Bibliotheek in The Hague in 1948, which now detains the richest chess books collection - the "Bibliotheca Van der Linde-Niemeijeriana". Niemeijer also wrote a monography about Wolfgang Pauly which was the reference book about the Romanian composer until Marian Stere published his voluminous "Challenge of a Legacy" in 2001. Niemeijer also dedicated a problem to W. Pauly at the occasion of Pauly's 50th birthday, see chesscomposers.blogspot.de."