M.Mladenovic, N.Stolev, 1er HM, Liga Problemista, 1987
Mate in 2(***)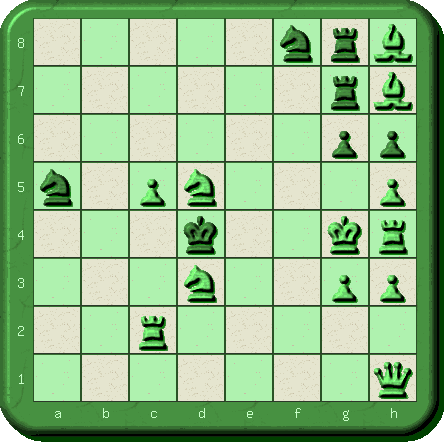 White to play
Tip:
Solutions to the chess problem of the day will be made available the following day.

1. Nc3

!

... 2. Qe4

#


1... gxh5+ 2. Kf3

#


1... Kc4 2. Qd5

#


1... Kxd3, Ke3 2. Qe4

#

2018-03-11 09:22:51, by

slowbut2

before my seeing comments: My solution: to mate with queen [or rook] after a move of black king [or another piece], white's ncthree is start

2018-03-11 08:58:21, by

problemist

Shown are changed mates by the Royal battery on 1.. gxh5+ (discovered cross checks). In the set 2. Kxh5#, in the try 1. Nf2? (threat 2. Qe4#) gxh5+ 2. Kf5#, but 1.. Nc4! Finally in the solution (with the same threat, giving two flight squares) 1..gxh5+ 2. Kf3#, and the side variation 1.. Kc4 2. Qd5#. FIDE Album.

Miodrag Mladenović (*14.6.1964 in Zemun) Serbian composer and Grandmaster, see wikipedia de, lv, sr. "Miodrag Mladenović is Grandmaster in composing and solving. He is Slobodan Mladenović's (*5.4.1934 in Skopje, +1.9.1993, Yugoslav composer) son. He composes mostly directmovers and selfmates. 6 of his best reflexmates have been analyzed by Juraj Lörinc on his website." See also his early entry in "Caissas Schloßbewohner," Vol. 2, 1985, p. 80-81.

Nikola Stolev (*6.12.1947 in Skopje) Macedonian composer. "Nikola Stolev is the helpmates editor of "StrateGems" and a helpmate composer. He wrote with Živko Janevski "Sovremeniot pomošen mat vo dva poteza: The Modern helpmate in two"(1989). He also composes direct mates."