Problème d'il y a 7 jours
Vous aimez les échecs ? Venez tous les jours découvrir et essayer de résoudre ces problèmes de mats gratuits. Ces problèmes d'échecs vous aideront à améliorer votre tactique.
Bruno's Chess Problem: 15/01/2019
T.Linss (2 solutions), PK 77, 1991
Mat en 4 (****)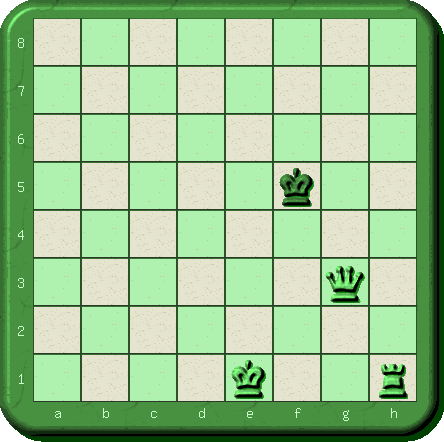 Les blancs jouent
Astuce :
En vous enregistrant, vous pouvez marquer les problèmes que vous avez déjà résolu.

1. Qe3

!

... 2. Rf1 ... 3. Qg3 ... 4. Rh1

#


1. ... Kg4 2. Qf2 Kg5 3. Rg1+ ... Kh5 4. Qh2

#



1. Rh6

!

Ke4 2. Rh5 Kd4 3. Kd2 ... 4. Qg4

#


3. ... Kc4 4. Qc3

#




2019-01-15 07:04:00, by

problemist

This time castling is not used instead mates on the fourth rank and on the h-file are generated. The first and dual-free solution is 1. Rh6 Ke4 2. Rh5 Kd4 3. Kd2 and mate by the wQ on c3 or e3. The second solution may be a cook as it has several duals: 1. Qe3 Kg4 2. Qf2 and now 3. Rg1 and mate on g3 or h2. But also 2. Qc5 and 2. Rf1 work, duals also on 1.. Kg6 (see yacpdb). Only 1.. Kf6 2. Rf1+ is dual-free (but simple) 3. Qg3# 4. Rh1#. Published in Problemkiste (77) 1991-10.

Torsten Linß (* 11.7.1967 in Eisenach) German composer and International Master. "Torsten Linß was the founder and editor of the German magazine "harmonie" (available online) which was taken over by Frank Richter in 1996 and taken back by Linß in 2013. He has lately had many successes in (very) long selfmates. Since Torsten is a very organized person, two years ago you could find on his website the list of his problem publications, the list of his problems published in the FIDE Album, the list of all his problems awarded prizes and all all his 966 published problems. But the website unfortunately no longer exists. In 2015 Torsten also achieved the number of FIDE Album points needed to obtain the title of Grandmaster."
Depuis l'ouverture en octobre 2000, j'ai publié en ligne plus de 6650 problèmes d'échecs gratuits. Si vous voulez plus de détails, jetez un coup d'oeil à ma page de statistiques.
Connexion
Search
Navigation
Bruno's
Chess Problem of The Day


(c) 2000-2019 My-Free-Games.com .. Vie privéeTous droits réservés. Toute réutilisation de toute ou partie du site nécessite l'autorisation de l'administrateur.