Like chess? Come on daily, and try to solve these free online chess games. These free online chess problems should help you to improve your chess strategies and tactics.
Each day I offer you a different free online chess problem with various difficulties. One day you will have to solve an easy checkmate in 2 and the day after a very difficult free online chess problem in 2 or a checkmate in 6.
Happy New Year 2019!
News of the front: search in old checkmates is fixed now! and the site is now responsive design, so you could solved checkmates on your phone! Feel free to report issues with contact form.
Bruno's Chess Problem: 01/17/2019
J.Kabat & Z.libis, Szachy, 1976
Mate in 3 (****)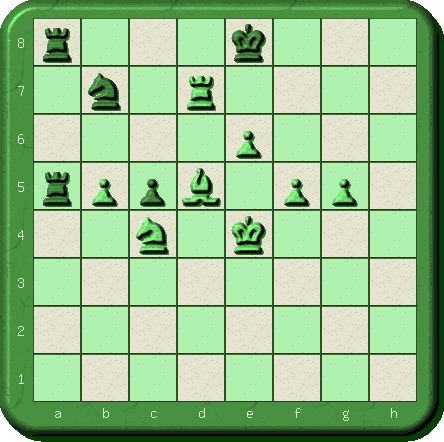 White to play
Tip:
With register account, you could have moving pieces and mark mates as started or solved.

2019-01-17 06:57:12, by

problemist

Something forced is needed as Black threatens e.g. 1.. Ra4. The key is the straightforward otb-move 1. Rh7 with the threat 2. Rh8+ Ke7 3. f6#. On 1.. Nd6+, Kf8, Kd8 2. NxN+, e7+, Rh8+. Also there is the defense 1.. 0-0-0 2. Nb6+. Commendation. I would rate the hardness by 2 stars.

Josef Kabát (* 9.6.1954) Czech composer.

Zdeněk Libiš (* 9.5.1954) Czech composer. "Zdeněk Libiš is a direct mate and selfmate composer."
Since the opening in October 2000, I had published online more than 6650 free chess problems. If you want more details, look at my chess stats pages.