Chess problem: 8 days ago
Like chess? Come on daily, and try to solve these free online chess games. These chess problems should help you to improve your chess strategies or tactics.
Bruno's Chess Problem: 01/09/2019
E.Boswell, Svenska Dagbladet, 1928
Mate in 2 (**)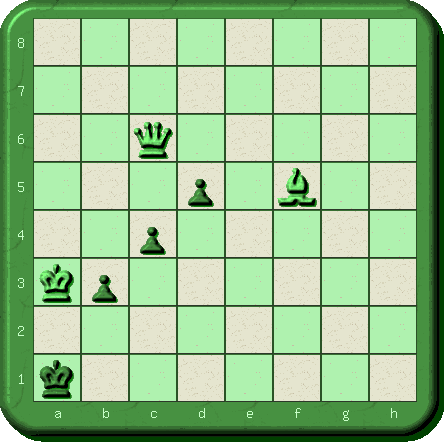 White to play
Tip:
Level : * (very easy) to ****** (very hard)

1. Qa8

!


1... d4 2. Qh1

#


1... c3 2. Kxb3

#


1... b2 2. Kb4

#




2019-01-09 10:05:01, by

slowbut2

before my seeing comments: My solution [submitted in a style the honorable problemist was imitating on 2018-11-09 08:29:17]: to mate with queen after some black move, white's qaeight starts

2019-01-09 06:30:13, by

problemist

The key has to be performed by the wQ, but attacking on the b-file fails, e.g. 1. Qb7?, Qb6? c3!, d4! So the next idea is to build a Royal KQ-battery on the a-file, but 1. Qa6?, Qa4? fail to 1.. d4! Thus the wQ has to observe the diagonal a8-h1 which only works from a8. Then 1.. d4, c3, b2 2. Qh1#, Kxb3#, Kb4#. Prize. A gem, which was often reprinted:
1931 Mate in Two Moves
1932 Social Chess Quarterly (The)
1936 Chess Cameos
1949 American Chess Problemist
1960 Chess
1981 Miniature Chess Problems from Many Countries
1996 Fun with Chess Miniatures
1997 2345 Chess Problems
2009 StrateGems

Edward Boswell (* 14.10.1899 in Lancaster, † 22.3.1960 in Lancaster) British composer. "Edward Boswell was a specialist of selfmates and the president of the BCPS (British Chess Problem Society) from 1958 until 1960. He was an International Judge."
Since the opening in October 2000, I had published online more than 6650 free chess problems. If you want more details, look at my chess figures pages.
Connection
Search
Navigation
Bruno's
Chess Problem of The Day


(c) 2000-2019 My-Free-Games.com .. Privacy PolicyAll rights reserved. Reprinting, other using of materials of this site requires a reference to it or to the author.