F.Giegold, Schach Echo, 1970
Mate in 3(***)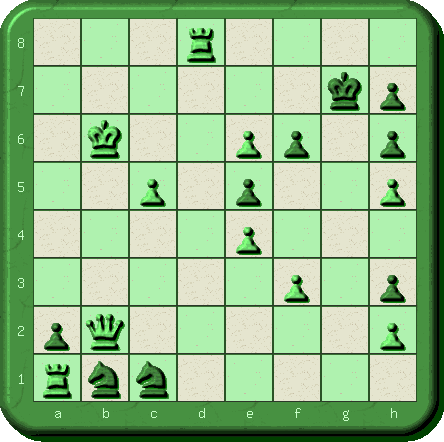 White to play
Tip:
You could change chessboard skin (menu All Checkmates/Settings)

1. Rxa2

!

... 2. Ra7

#


1... Na3 2. Rxa3 ... 3. Ra7

#


2... f5 3. Qxe5

#


1... Na3 2. Qg2+ hxg2 3. Rxg2

#


1... Nxa2 2. Qa1 ... 3. Qa7

#


2... Na3, Nc3, Nd2 3. Qg1

#


2... f5 3. Qxe5

#





2018-11-08 14:56:08, by

schmerl

Yep! overlooked that.

2018-11-08 08:23:43, by

problemist

Not 1. Qf2? Ne2! 2. Qh4 Nf4.

2018-11-08 08:21:26, by

problemist

A typical chess puzzle of Giegold's. It is just one hard line sacrificing the wR on a2 and after 1.. NxR with a hidden second move 2. Qa1! creating zugzwang. Originally this was twin problem with b) Pf3->a3, but as pointed out by yacpdb this is dualistic as 1. Ka7 and the cook 1. Kc7 (threat 2. Rd7+) solve.

Fritz Emil Giegold (* 2.3.1903 in Leupoldsgrün, † 13.11.1978 in Leupoldsgrün) German composer, see wikipedia de. "Leupoldsgrün. That's the place. It became world-famous, at least in the problemists' world, because of one person: Fritz Emil Giegold. His enigmatic, difficult but facetious and ravishing longmovers fascinated and amused solvers of many chess magazines and newspaper columns and owed him the nickname of 'Rätselonkel' (Puzzle Uncle). His specialty consisted in forced black play, but very hidden and counter-intuitive white moves.

Fritz Giegold published his first problem in 1916. He edited the chess column of the Frankenpost newspaper from 1948 until 1978 and also collaborated with other publications. He wrote one book with Walther Horwitz: "Zaubereien auf dem Schachbrett" (1962) and two anthologies were published after his death: Herbert Engel and Karl-D. Schulz's "Fritz Giegold - 200 problematische Einfälle und Ideen." (1982), and Herbert Engel's "Problemsammlung von Fritz Giegold" (1985) which is available online (today's problem is reprinted as No. 314)."

2018-11-08 04:40:30, by

schmerl

1. Qf2 f5 2. Qh4 ~ 3. Qe7#.
Is that the intended solution?