Yesterday Chess problem
Like chess? Come on daily, and try to solve these free online chess games. These chess problems should help you to improve your chess strategies or tactics.
Bruno's Chess Problem: 01/16/2019
M.Marandjuk, 3rd Pr., Festival. Oessaa, 1984
Mate in 2 (**)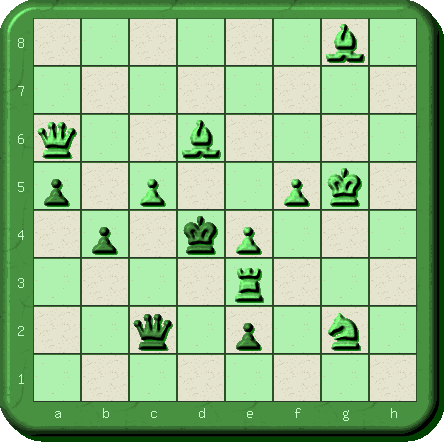 White to play
Tip:
Level : * (very easy) to ****** (very hard)

1. Qa7

!

... 2. Qg7

#


1... Qxc5 2. Qxc5

#


1... Qxe4 2. c6

#




2019-01-16 10:34:39, by

slowbut2

before my seeing comments: My solution [submitted in a style the honorable problemist was imitating on 2018-11-09 08:29:17]: to mate with queen after some black move, white's qaseven starts

2019-01-16 06:47:26, by

problemist

This is a twin problem with (b) Qa6->e1. Shown are four-fold changed mates in set and solution for the black defenses 1.. Qxe4, Qxc5. The keys threaten 2. Qg7#, Qh8#, respectively. FIDE Album (3+3+2 = 8 points). Фестиваль «Одесса-84» 1984.

Михаил Назарович Марандюк (* 17.1.1949 in Novoselytsia) Ukrainian composer and Grandmaster, see wikipedia de, it, lv, ru. "Mikhail Marandyuk is an exceptionally gifted composer, multiple World Champion in chess composition in direct mate sections (threemovers, moremovers)."
Since the opening in October 2000, I had published online more than 6650 free chess problems. If you want more details, look at my chess figures pages.
Connection
Search
Navigation
Bruno's
Chess Problem of The Day


(c) 2000-2019 My-Free-Games.com .. Privacy PolicyAll rights reserved. Reprinting, other using of materials of this site requires a reference to it or to the author.