Z.Janevski, 8eme Pr., WCCT, 1988
Mate in 2(***)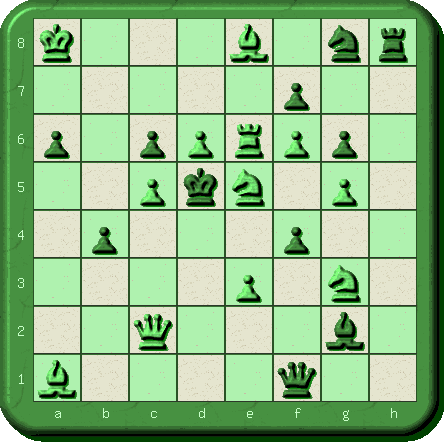 White to play
Tip:
Level : * (very easy) to ****** (very hard)

1. d7

!

... 2. Rd6

#


1... fxe6 2. d8=Q

#


1... Kxe6 2. Bxf7

#


1... Qxa1, Qc4 2. Qc4

#

2018-11-11 16:04:04, by

slowbut2

before my seeing comments: My solution [submitted in the style problemist was imitating on 2018-11-09 08:29:17]: to mate with rook [or queen\bishop] after some black move, white's dseven is start

2018-11-11 08:54:42, by

problemist

A random move of wNe5 threatens 2. Re5#. However it turns out that any such move is refuted by Black, e.g., 1. Nxg6?, Nf3?, Nd7? fxe6!, Qxa1!, Kxe6! So this was the wrong track and the key is quite different, clearing d6 for the wR, and 1.. fxe6 2. d8Q(R)#. In addition a couple of changed mates are shown in the tries and the solution. Interesting try play in which the expected solution does not work, also keeping the solver busy. FIDE Album.

Живко Јаневски (* 4.8.1953 in Gevgelija) Macedonian composer and Grandmaster, see wikipedia it, lv. "Živko Janevski is a heterodox problems specialist and an International Judge for selfmates and helpmates. He is the editor of the Macedonian magazine "Orbit". He was world champion in composing helpmates in 1989-91 and 1998-2000. He also wrote an anthology of Macedonian problemists "Antologija na makedonskiot problemski šah" in 1987; in 1989 with Nikola Stolev "The Modern helpmate in two" and in 2010 a compilation of Chris Feather's problems "Chris J. Feather - Selected Helpmates". His strategic helpmates are quite a feast for the amateur."