A.Kuzovkov, WCCT, 1988
Mate in 2(**)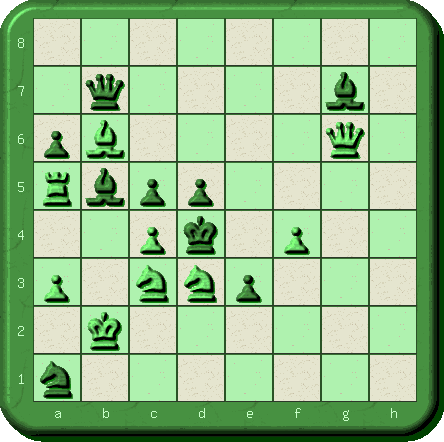 White to play
Tip:
Level : * (very easy) to ****** (very hard)

1. Nb4

!

... 2. Qd3

#


1... Bxc4 2. Bxc5

#


1... dxc4 2. Ne2

#


1... Kxc4 2. Qd3

#




2017-12-13 12:10:54, by

slowbut2

before my seeing comments: My solution: to queen mate\foresee defenses , white's nbfour is start before mate

2017-12-13 06:10:50, by

problemist

Shown are changed mates in four phases, the set, the two tries and the solution for the thematic defenses 1.. Bxc4, dxc4 (in set and solution it is a reciprocal change). A random move of wNd3 threatens 2. Qd3#, but 1. Nc1?, Ne1? fail to 1.. Bxc4! (as now wBb6 is pinned), dxc4! This gives a hint to close the b-file in the key. 10th place in the 3rd WCCT, FIDE Album.

Александр Сергеевич Кузовков (*27.2.1953 in Provideniya) Russian composer and Grandmaster, see wikipedia de, it, lv, ru. "Kuzovkov is a constructions engineer and also an excellent direct mate composer. What is noteworthy is that Aleksandr Kuzovkov, beside this 1st place in the WCCT, has also won 2 second places and 3 third places in WCCT tourneys!"