J.Burda, Problemblad, 1984
Mate in 2(***)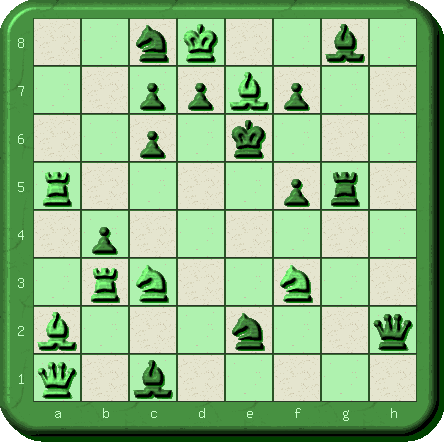 White to play
Tip:
With register account, you could have moving pieces and mark mates as started or solved.

1. Nb5

!

... 2. Re3

#


1... d5 2. Qf6

#


1... Kd5 2. Rxb4

#


1... f4 2. Nxc7

#


1... Nc3 2. Nbd4

#


1... Qe5 2. Qxe5

#




2017-03-25 10:56:56, by

slowbut2

before my seeing comments: My solution: to double-check mate\foresee defenses, white's nbfive is start before mate with b\r\q\n\ \etc.

2017-03-25 09:19:37, by

problemist

A random move of wNc3 threatens 2. Re3# or 2. Qf6#, but 1.. Nxe7! defends. So d6 should be guarded by the key. In turn it gives the flight d5, and threatens 2. Re3#. Several mates follow 1.. Kd5, d5, Nc3, Qe5, f4 2. Rxb4#, Qf6#, Nbd4#, Qxe5#, Nxc7#. Regarding the hardness two stars suffice.

Josef Burda (*1.9.1943 in Hněvošice u Opavy) Czech composer. "Josef Burda wrote a series of books: "Vyber dvojtazek 1967-97" (1998), "Rudolf Solarczyk a sachovy problem" (1999), "50 tritahovych sachovych uloh" (2007) etc (more on Vaclav Kotesovec's website). He composes direct mates. As noted by I.Skoba, Mr. Burda is also regularly the director of the Czech Solving Championship. He edits the magazine "Řešitelský zpravodaj". The scanned issues can be read on V. Kotesovec's website."