K.A.L.Kubbel, Norsk Sjakkblad, 1935
Mat en 3(***)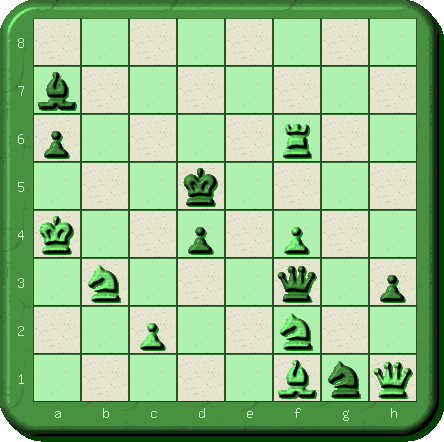 Les blancs jouent
Astuce :
Les archives des problèmes sont consultables pendant une période de 10 jours.

1. Nd1

!

... 2. c4+ Ke4 3. Nd2

#


2... dxc3 e.p. 3. Nxc3

#


1... Ke4 2. Bc4 ... 3. Nd2

#


2... d3 3. cxd3

#


1... d3 2. Bxd3 ... 3. c4

#


1... Qe4 2. Ne3+ dxe3+ 3. c4

#


1... Ne2 2. Qxf3+ Kc4 3. Nb2

#





2018-08-12 10:39:19, by

problemist

An attack with the wB fails 1. Kb4? Bc5+ and 1. Bxa6? Bb8! 2. Kb5 Bxf4 giving the flight e5. The key gives the flight e4 and threatens 2. c4+ dxc3 e.p., Ke4 3. Nxc3#, Nd2#. On 1.. Ke4 follows the quiet 2. Bc4 with the threat 3. Nd2# and 2.. d3 3. exd3#. On 1.. Qe4 the cross checks 2. Ne3+ dxe3+ 3. c4# and finally 1.. Ne2, d3 2. QxQ+, Bxd3. Interesting variations and challenging to solve. 1st Prize.

Карл Артур Леонид Иванович Куббель (* 6.1.1892 in St. Petersburg, † 18.4.1942 in Leningrad) Russian composer, see wikipedia de, en, es, fr, he, it, lv, pl, ru, uk. "Leonid Kubbel was a prolific and remarkable composer of endgame studies and problems. He was considered as one of the greatest study composers. He collaborated with chess magazines such as "Shakhmatny Listok" and published two compilations of his compositions during his lifetime.

Alexandr Baturin wrote a compilation of 577 problems by Leonid Kubbel in 1958 "Избранные задачи Л. И. Куббеля." Timothy Whitworth published in 1994 his complete endgame works in "Leonid Kubbel's Chess Endgame Studies" (2nd complete edition, 2004). Yaakov Vladimirov and Yuri Fokin published in 1984 the soberly titled "Leonid Kubbel" including more than 700 problems and studies by K.A.L. Kubbel, a detailed biography and a critical apparatus."

"Leonid's brothers, Arvid and Evgeny, were also chess players. Arvid Kubbel was a strong over the board master, having played in the first four USSR chess championships, while Evgeny was himself an endgame composer. Both Leonid and Evgeny Kubbel died of starvation in 1942 during the Nazi siege of Leningrad, while Arvid was executed by the NKVD in 1938."