P.Einat, Internet Tourney Award, 1999
Mat en 2(*)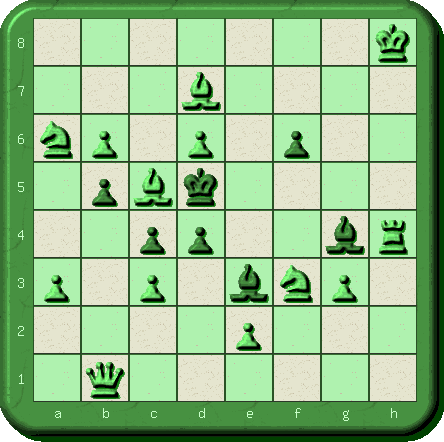 Les blancs jouent
Astuce :
niveau : * (très facile) à ***** (très difficile)

1. Qxb5

!

... 2. Qc6

#


1. ... Ke4 2. Qc6

#


1. ... Bxf3 2. Bb4

#


1. ... Bxd7 2. Nc7

#




2017-12-07 18:23:06, by

slowbut2

before my seeing comments: My solution: to knight mate and foresee king\ bishop defenses , white's qbfive is start before mate

2017-12-07 09:20:11, by

problemist

Some more biographical details about the composer from the "Variantim" site: "Doctor (Ph.D.) in biology, specializing in molecular biology. A Biotechnology professional working in the fields of drug development, and in recent years in Gene Therapy drug development." He lives in Ness Ziona.

2017-12-07 07:20:01, by

problemist

The theme is a modification of the theme of the tourney. Originally it said: "Try key A has one threat B and two defeats x and y. In the solution defense x allow mate A (Vladimirov) and defense y allow mate B (Dombrovskis)." The modification of Paz Einat amounts to: "Try 1.A? 2.B# 1…a\b 2.X\Y# but: 1…w! Solution: 1.Z! 1…a\b 2.A\B#" with A=Bb4, B=Nc7, a=Bxf3, b=Bxd7 (w=Pd3, X=Qf5, Y=Qe4, Z=Qb5). Comment by the composer: "In the aftermath of the tourney and following questions and comments by some I have the following thoughts on the theme. Since the theme definition asked specifically for two refutations in the thematic try I disallowed problems in which there was a reply on the Dombrovskis defense and there was only one "Vladimirov refutation". I agree that such problems show the same theme and that having different mates on the Dombrovskis defense is more interesting. Moreover, I found that even having a mate on the Vladimirov defense, as long as it is not the key move (!!), can be realized and is probably the most elegant way to show the theme." The award with all comments is available online from Vito Rallo.

Paz Einat (*7.11.1956 in Hadera) Israeli composer and International Master. "Paz Einat composes direct mates, helpmates and fairy problems. He is an International Judge for direct mates in 2 and 3 moves. He often composes in collaboration with Ofer Comay."