O.Fuss, 1922
Mate in 3(**)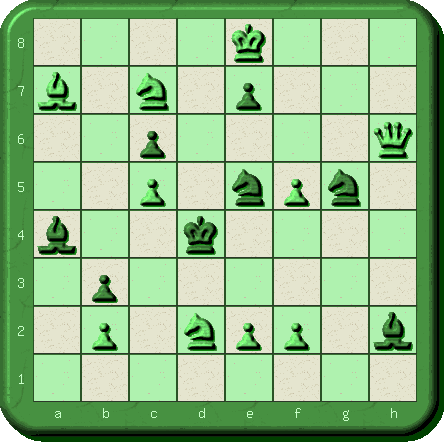 White to play
Tip:
Solutions to the chess problem of the day will be made available the following day.

1. Qe6

!

... 2. Qd5+ cxd5+ 3. c6

#


1... Nc4 2. Qe4+ Nxe4 3. Nf3

#


1... Ng4 2. Nb5+ cxb5 3. c6

#


2... Bxb5 3. Nxb3

#


1... Nxe6 2. Nxe6+ Kd5 3. e4

#


1... Ne4 2. Qc4+ Nxc4 3. Nf3

#




2018-05-20 10:11:54, by

problemist

Source: Problemturnier des Deutschen Schachbundes, Oeynhausen, 1922. The problem is reprinted in: "75 Jahre Niedersächsischer Schachverband e. .V., 1924-1999, Chronik und Festschrift." Hannover 1999, p.286. Comment: "Viermal wird die Dame geopfert."

2018-05-20 09:53:40, by

problemist

The key sacrifices the wQ on e6 threatening the further Q-sacrifice on d5 with the nice cross-check 2.. cxd5+ 3. c6#. If Black takes on e6 then 2. Nxe6+ Kd5 3. e4#. On 1.. Nc4, Ne4 follow Q-sacrifices on e4, c4 with 3. Nf3# using the bNs as self-blocks. Finally 1.. Ng4 2. Nb5+ Bxb5, cxb5 3. Nxb3#, c6#. Nice variations with lots of white sacrifices. 1st Prize.

Otto Fuß (*8.12.1861 in Clausthal, +12.7.1944 in Hannover) German composer. From Günter Büsing's 'Kalenderblatt' in 'Die Schwalbe,' Dezember 2011, on occasion of the 150th birthday of the composer: "Zum 70. Geburtstag von Otto Fuß bezeichnete die DSZ ihn 1931 als eine der führenden Persönlichkeiten im deutschen Schach. Schon 1882 gründete er einen Schachverein in seiner Heimatstadt Clausthal-Zellerfeld, war 1884 erstmals als Preisrichter tätig, führte seit etwa 1900 den hannoverschen Schachklub, später auch den Niedersächsischen Schachverband. Er war die treibende Kraft beim Hannoverschen Jubiläumsturnier 1926 nebst Problemturnier, dessen Turnierbuch (u. a. mit einem Foto von Holzhausen, der im Turnier den 3. Platz erringen konnte) heute eine gesuchte Rarität ist. 1909 publizierte der Autor zusammen mit Ferdinand Möller das Buch 150 ausgewählte Schachaufgaben. G. Willeke zitiert in seiner Geschichte des deutschen Arbeiterschach aus einer Festschrift, wie Fuß die hannoverschen Schachclubs durch kritische Zeiten führte: "Im Jahre 1933 kam der Klub in eine schwierige Lage. Das Dritte Reich forderte die "Gleichschaltung". Zum Glück war für das Land Niedersachsen der Kohlenkaufmann Otto Fuß zum Schachführer ernannt worden. Herr Fuß, selbst ein ausgezeichneter Schachspieler und großartiger Problemkomponist, entledigte sich seiner Aufgabe in vornehmer und rücksichtsvoller Weise. Durch die Gleichschaltung der hannoverschen Schachvereine wurden die Mitglieder des Klubs in einer größeren Gemeinschaft zusammengefaßt. Sie haben es wiederum Herrn Fuß zu verdanken, dass der Klub seine Eigenständigkeit nicht verlor, sondern in seinen alten Spiellokalen weiterspielen konnte. Zwar mußten danach die Spiellokale öfter gewechselt werden, der innere Zusammenhalt blieb aber gewahrt, und auch die Breitenarbeit wurde fortgeführt."