A.Lobusov, Schach-Echo, 1986
Mat en 2(**)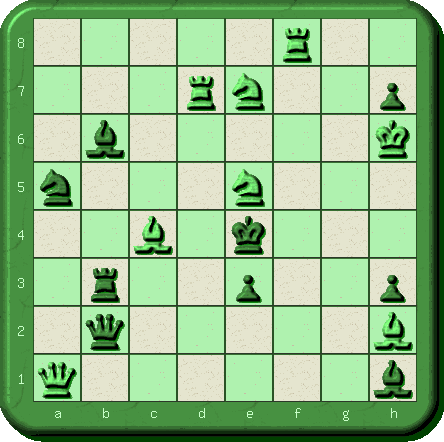 Les blancs jouent
Astuce :
En vous enregistrant, vous pouvez marquer les problèmes que vous avez déjà résolu.

1. Nf5

!

... 2. Bd5

#


1... Nxc4 2. Qa8

#


1... Rb5, Rd3 2. Bd3

#


1... Qd2 2. Ng3

#


1... Qxh2 2. Nd6

#


1... Qd4, Qxe5 2. Qxh1

#

2018-10-14 13:47:37, by

problemist

Welcome back slowbut2 after your 1 week timeout!

2018-10-13 23:29:02, by

slowbut2

before my seeing comments: My solution: to mate with bishop [or queen, knight] after some move of black, white's nffive is start

2018-10-13 10:31:59, by

problemist

First published in Шахматы в СССР, 1983. FIDE Album. Shown are changed mates (3x2 Zagoruiko) for the black defenses 1.. Qd2, Qxh2 in the set 2. Rf4#, Bd5#, the try 1. Qd1? e2! 2. Qg4#, Qd5# and the solution 2. Ng3#, Nd6# (white line closure after Black has opened a line of guard, twice the Somov theme). Also there is the Dombrowskis paradox: In the try and the solution 1.. Qxh2 defends against the threat 2. Bd5#, but paradoxically in the set on that same defense 2. Bd5# is successful . For the solver to find something against 1.. e2 quickly narrows down the search.

Андрей Яковлевич Лобусов (* 17.6.1951 in Moskva, † 13.7.2010 in Moskva) Russian composer and Grandmaster, see wikipedia de, it, lv, ru. "Andrey Lobusov published his first chess problem at the age of 11, in 1962. From then on, he composed high quality problems, mainly two- and threemovers but also some moremovers. He wrote many articles as well as the manuscript of a book from which was selected the article published on Andrey Selivanov's website in 2010." See also the splendid two part article to his memory by Odette Vollenweider "Die eindrückliche Meisterschaft von Andrej Lobussow" in Die Schwalbe, Band XXIX, Heft 246, Dezember 2010 (p. 703-710), and Band XXX, Heft 247, Februar 2011 (p. 5-14).