A.Kraemer, Deutsche Schachzeitung, 1936
Mate in 3(**)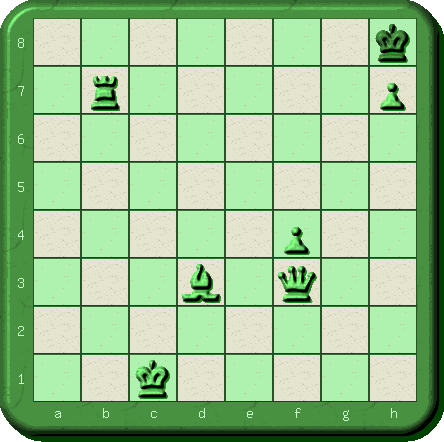 White to play
Tip:
With register account, you could have moving pieces and mark mates as started or solved.

1. Rb1

!

Kg7 2. Qb7+ ... 3. h8=Q

#


2. ... Kf6 3. Rb6

#


2. ... Kh8 3. Qb2

#




2014-08-20 09:18:06, by

slowbut

before my seeing comments: My solution: white's rbone is start before check with queen and mate with rock,queen,promotion,, etc.

2014-08-20 07:30:27, by

problemist

Well known gem showing a Bristol clearance of the wR for the wQ. Listed as No. 49 in Kraemer, Zepler's classic "Im Banne des Schachproblems" , 1951. Not that easy if one sees it for the first time. Ado Kraemer (23.3.1898-25.6.1972), D, see wikipedia de, en, it.