V.Kopaev, A.Lobusov, 1st Pr., Dubinin Memorial, 1987
Mate in 2(**)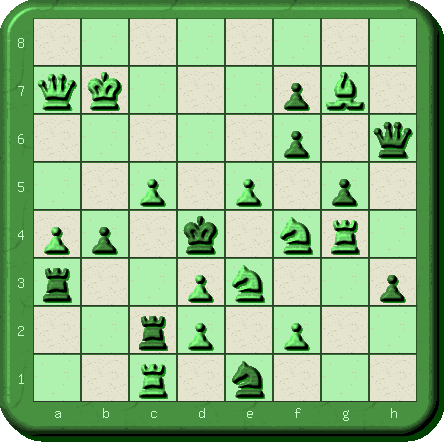 White to play
Tip:
Level : * (very easy) to ****** (very hard)

1. Qa6

!

... 2. Qd6

#


1... fxe5, f5 2. Ne6

#


1... Rxd3, Nxd3 2. Nxd3

#


1... Rxc5 2. Ng6

#

2018-04-19 09:01:22, by

problemist

Vyacheslav Kopaev is covered in wikipedia lv, ru.


2018-04-19 07:03:48, by

slowbut2

my better solution: white's qasix is start

2018-04-19 06:48:28, by

slowbut2

2018-04-19 06:32:34, by problemist
" ... natural tries 1. Qb6?,

2018-04-19 06:47:27, by

slowbut2

before my seeing comments: My solution: to mate with queen [or knight, double check] after a move of black queen [or another piece], white's qbsix is start

2018-04-19 06:32:34, by

problemist

Shown are changed mates in three phases on the black defenses 1.. Rxd3, Rxc5, fxe5 (3x3 Zagoruiko), for the two natural tries 1. Qb6?, Qb8? Nxd3!, f5! and the solution, where the key gives a flight square, but guards d3, and threatens 2. Qd6#. FIDE Album.

Вячеслав Георгиевич Копаев (*18.3.1938, +28.5.2005) Russian composer and International Master. "Vyacheslav Kopaev's 1st place in the 3-mover section of the 2nd WCCT (1980) can be quoted as an example of the current WCCT 9 theme ... which already won another WCCT! What is more amazing is that 20 years later Kopaev won even another section of WCCT, which gives a glimpse on his remarkable skills in all composing genres."

Андрей Яковлевич Лобусов (*17.6.1951 in Moskva, +13.7.2010 in Moskva) Russian composer and Grandmaster, see wikipedia de, it, lv, ru. "Andrey Lobusov published his first chess problem at the age of 11, in 1962. From then on, he composed high quality problems, mainly two- and threemovers but also some moremovers. He wrote many articles as well as the manuscript of a book from which was selected the article published on Andrey Selivanov's website in 2010." See also the splendid two part article to his memory by Odette Vollenweider "Die eindrückliche Meisterschaft von Andrej Lobussow" in Die Schwalbe, Band XXIX, Heft 246, Dezember 2010 (p. 703-710), and Band XXX, Heft 247, Februar 2011 (p. 5-14).