J.Fritz, Zpravy, 1963
Mate in 3(***)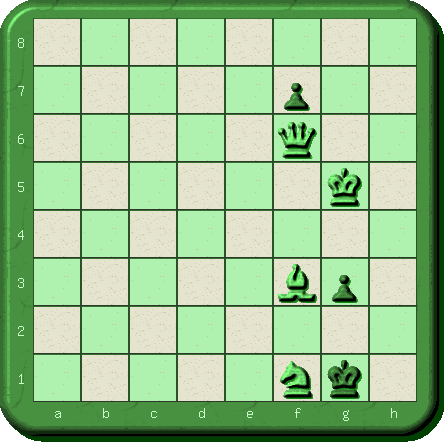 White to play
Tip:
Archives of checkmates over the last 10 days can be consulted.

1. Nh2

!

... 2. Ng4 ... 3. Qa1

#


1. ... gxh2 2. Bh1 Kxh1 3. Qf1

#


1. ... Kf2 2. Qd4+ Ke1 3. Qe3

#


1. ... Kxh2 2. Qb2+ ... 3. Qg2

#




2016-08-24 07:26:28, by

problemist

Bohemian miniature without any wPs and model mates. In the very problem-like and surprising key White sacrifices his wN at h2, and - in the main variation - if the bP captures, the wB is sacrificed, too, on h1. On 1.. g2 2. Ng4, and K-moves to f2 or h2 are answered by a suitable Q-check at d4(b6) or b2. Some slight duals occur, but within the tolerance of the Bohemian School. Rich and interesting play with only 7 pieces.

GM Jindřich Fritz (15.6.1912-9.11.1984), CZ, see wikipedia de, fr, it, lv, ru, "was an endgame study and problem composer. In 1951 he became the editor of the studies column of Ceskoslovensky Sach. He wrote several books, such as "Moderní šachová studie : Úvod do theorie a skladby" (1951), "Šachová studie" (1954) and "Vybrané šachové problémy" (1959) which contains 252 of his endgames and 50 of his problems."