K.Mlynka, L'Echiquier Belge, 1967
Mate in 2(**)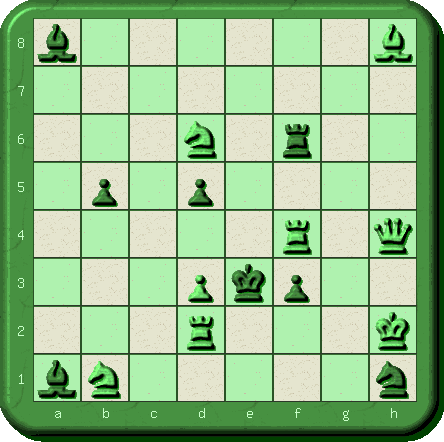 White to play
Tip:
Level : * (very easy) to ****** (very hard)

1. Rf5

!

... 2. Qf4

#


1... Rh6 2. Qxh6

#


1... Rxf5 2. Nxf5

#


1... Be5+ 2. Rxe5

#




2017-01-17 11:48:40, by

slowbut2

before my seeing comments: My solution: to queen mate\foresee b\r defenses, white's rffive is start before mate with q\n\r\ \etc.

2017-01-17 07:55:35, by

problemist

In the book "409 Selected Composition of Karol Mlynka" by Gabriel Török (available online), Pos. no. 41, it is mentioned besides the changed mates also a reciprocal change of defense motivs in the try (Rh6+ checking, Be5 pinning) and the solution (Rh6 pinning, Be5+ checking). Changed mates also with the set play 1.. Rh6, Rxf4 2. Nf5#, Qe1#.

2017-01-17 07:15:16, by

problemist

Shown are changed mates in the try 1. Qg5? f2! and the solution. The key threatens 2. Qf4#, but not 1. Rxf6? Be5+! On 1.. Rh6, Be5+ the black piece is captured with mate by Q or R. On 1.. RxR 2. NxR#.

Karol Mlynka (*11.8.1944 in Kozárovce) Slovak composer and FIDE Master, "is a twomover and fairy composer. Juraj Lörinc summed it up on his website: Teacher of Slovak and German languages. Known Slovak composer, he composes since 1961, inventor of Mlynka theme (cyclic change of defence motives of 3 defences in 2 phases) as well as many other original themes from the field of so called Slovak school. International judge FIDE since 1987 and FIDE master since 1990. In recent time he works well in Pat a Mat redaction, where he is editor for #3. - Karol Mlynka also invented the Supertransmuting King and has already composed many problems with this fairy piece. The definitions and some examples can be found also on Juraj Lörinc's website. Karol Mlynka's book "100 selected chess compositions" can be downloaded from selivanov.ru."