V.Pachman, Narodni osvobozeni, 1938
Mate in 3(***)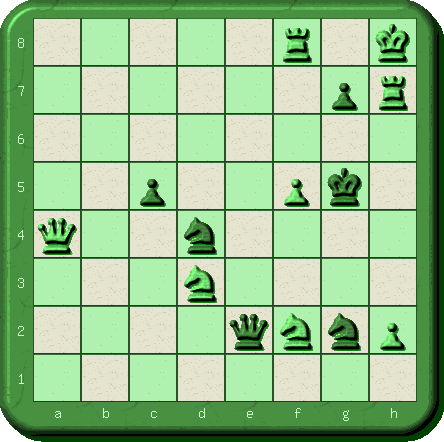 White to play
Tip:
With register account, you could have moving pieces and mark mates as started or solved.

1. Qd1

!

... 2. Nh3+ Kg4 3. Ne5

#


1... Qf3 2. Ne4+ Kg4 3. h3

#


1... Nxf5 2. Ne4+ Kg4 3. Qxe2

#


2... Kg6 3. Ne5

#


2... Qxe4 3. Qh5

#


1... Nf3 2. Qxe2 ... 3. Qe7

#


2... Ne3 3. Qxe3

#





2018-01-18 06:30:09, by

problemist

A good Bohemian chess puzzle with a spectacular Q-sacrifice on d1 as the key. The threat is the pin mate 2. Nh3+ Kf4 3. Ne5# (model mate). On 1.. Qf3, Nf3, Nxf5, Nh4, Nf4 2. Ne4+, Qxe2, Ne4+, Qc1+ (Qg1+), h4#. In view of the black counterplay like 1.. Qxd3 the key is the only promising move for the solver whose main task is working out the ensuing variations.

Vladimir Pachman (*16.4.1918 in Bělá pod Bezdězem, +8.8.1984 in Praha) Czech composer and Grandmaster in composition, see wikipedia cs, de, it, lv, ru. "Vladimir Pachman is the brother of o.t.b. GM Ludek Pachman and the great-nephew of Bohemian composer Josef Cumpe (1868-1943). Vladimir composed about 1200 problems and studies, most of his problems in 3 or more moves. He was granted the title of International Judge upon the creation of the title in 1956. He edited the problems columns in "Ceskolovensky Sach" and wrote many books and articles. The following ones can be downloaded on the Internet:
"Problémový šach - Výběr 100 trojtahových úloh Fratiška Matouška" (1950) about F. Matousek's problems;
"České zvonky z Prahy" (1958);
"Šachová úloha" (1953), a treatise on direct mates with 239 examples, mostly three-movers;
"Vybrané šachové skladby Vladimíra Pachmana" (1972) about his own problems;
An article in Schach 1959: "Über das Wesen der Böhmischen Schule" about the Bohemian School;
Article in EG 61 (1980) "Logical Studies".
The quality of Pachman's works is high; he could include strategic and logical elements in Bohemian problems."