Problème d'il y a 10 jours
Vous aimez les échecs ? Venez tous les jours découvrir et essayer de résoudre ces problèmes de mats gratuits. Ces problèmes d'échecs vous aideront à améliorer votre tactique.
Bruno's Chess Problem: 28/11/2019
E.Visserman, 1er Pr., Problemblad, 1954
Mat en 2 (***)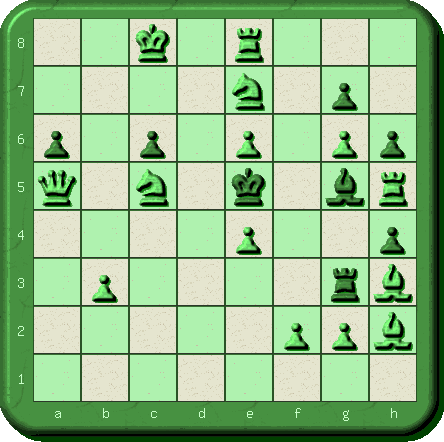 Les blancs jouent
Astuce :
Vous pouvez changer l'aspect de l'échiquier (menu Anciens/Préférences)

1. Kb8

!


1... Kf4 2. Qc7

#


1... Kd4 2. Nxc6

#


1... Kd6 2. Nb7

#


1... Kf6 2. Nd7

#




2019-11-28 19:39:44, by

slowbut2

before my seeing comments: My solution [arrived to through the 32-pixel, B&W, restartable-moving-pieces setting]: in view of the possibility\s: only for black king \ , to mate with north knight after black-king moves southwest [or to mate with knight\ queen from northwest], white's kbeight starts


2019-11-28 06:51:04, by

problemist

FIDE Album. Reprinted in "Het Belgisch Schaakbord (L'Echiquier Belge)," 1956; "Probleemblad," 1977; "The Problemist Supplement," January 2011 (available online from the BCPS website), in the article "K is for the King" by David Shire, p. 118, with the following commentary: "In [this problem] there is set play; 1...Kd4\Kf4\Kd6\Kf6 2.Sxc6\Qc7\Sb7\Sd7. Memorable unity is achieved by wK tries defeated by bK refutations. 1.Kd8? Kd4! is selfpinning whereas 1.Kc7? Kf4!, 1.Kb7? Kd6! and 1.Kd7? Kf6! are all selfobstructing. Only 1.Kb8! (-) admits no weakness."

2019-11-28 05:58:39, by

problemist

A complete block problem with a waiting move solution. There are mates set for the star flight of the bK 1.. Kd6, Kd4, Kf4, Kf6 2. Nb7#, Nxc6#, Qc7#, Nd7#. White wants to retain them by a waiting move of the wK, but 1. Kb7?, Kd8?, Kc7?, Kd7? all fail to one of the star flights 1.. Kd6!, Kd4!, Kf4!, Kf6! as White blocked the mating squares by its king. So only the move to b8 eventually solves (white combinations).

Eeltje Visserman (* 24.1.1922 in Blokzijl, † 23.3.1978 in Den Haag) Dutch composer, Grandmaster and International Judge, see wikipedia de, fi, it, lv, ru. "E. Visserman was a wonderful composer who deservedly won numerous composing tourneys. He composed problems of all types, but mostly two- and threemovers. He was also the editor of a column in magazines "Tijdschrift van de KNSB" and "Probleemblad". An anthology of his problems was published after his death: "Schaakproblemen van E. Visserman" by Albertus Marinus Koldijk, 1986."
Depuis l'ouverture en octobre 2000, j'ai publié en ligne plus de 6650 problèmes d'échecs gratuits. Si vous voulez plus de détails, jetez un coup d'oeil à ma page de statistiques.
Connexion
Search
Navigation
Bruno's
Chess Problem of The Day


(c) 2000-2019 My-Free-Games.com .. Vie privéeTous droits réservés. Toute réutilisation de toute ou partie du site nécessite l'autorisation de l'administrateur.