Problème d'il y a 6 jours
Vous aimez les échecs ? Venez tous les jours découvrir et essayer de résoudre ces problèmes de mats gratuits. Ces problèmes d'échecs vous aideront à améliorer votre tactique.
Bruno's Chess Problem: 07/06/2021
L.Loshinski, 1947
Mat en 3

(***)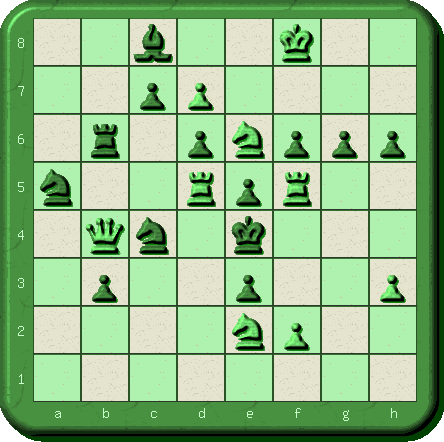 Les blancs jouent
Astuce :
Les archives des problèmes sont consultables pendant une période de 10 jours.

1. Qe1

!

... 2. Qh1+ Kxf5 3. N2d4

#


1... Nd2 2. Qh1+ Kxf5 3. N2d4

#


2... Nf3 3. Qxf3

#


1... exf2 2. Qh1+ Kxf5 3. N2d4

#


2... Ke3 3. Qf3

#


1... Kxd5 2. Qh1+ Kxe6 3. dxc8=Q

#


1... c5 2. Ng7 ... 3. Qh1

#


2... Nd2, exf2 3. Nc3

#


1... Kxf5 2. Ng7+ Ke4 3. Qh1

#


2... Kg5 3. f4

#


1... g5 2. Nxc7 ... 3. Ng3

#


2... Kxf5 3. Qb1

#


1... Nc6 2. Qb1+ Kxd5 3. N2f4

#





2021-06-07 18:16:56, by

problemist

No. 184 in the collection of Loshinski's problems "Гроссмейстер шахматной композиции," Москва́, 1980 by Владимиров Я., Кофман Р., Умнов Е. with the comment: "Правильиые маты со связкой черных фигур очень популярны в задачах чешской школы. Лошинский дает рекордное представление - пешка е5 оказывается связанной в пяти вариантах." So the problem is in the Bohemian style with pin model mates pinning bPe5 in five variations, a task.

2021-06-07 17:11:26, by

slowbut2

before my seeing others' comments: My solution [arrived to through the 32-pixel, B&W, restartable-moving-pieces setting and "(?)"]: in view of the following possibility\s::::::
queen starts to southmost < before king captures rook < before before queen check or north-night check < before diagonal-promotion or pawn mate\ \ ,,,,,,,,,,,,,,,,,,,,, it seems [ re-verification is intended later on and before seeing others' comments] that white's qeone starts

2021-06-07 12:46:44, by

problemist

Symmetry of the white pieces after the Q-move (with white asymmetry after 1.. Kxf5, Kxd5) and echo mates (after the symmetric 1.. c5, g5), both wRs are let en prise by the key. Also reprinted in "Szachy," 11\1949.

2021-06-07 07:18:34, by

problemist

"Vladimir Nabokov [(1899-1977), Russian-American novelist, among others of "Lolita" and the chess novel "The Defense"] spent considerable time during his exile composing chess problems, which he published in Germany's Russian émigré press, Poems and Problems (18 problems) and Speak, Memory (one). He describes the process of composing and constructing in his memoir: "The strain on the mind is formidable; the element of time drops out of one's consciousness". To him, the "originality, invention, conciseness, harmony, complexity, and splendid insincerity" of creating a chess problem was similar to that in any other art." (Wikipedia)

2021-06-07 07:18:04, by

problemist

FIDE Album. 1st Prize, Trud, 1947. The key 1. Qe1 activates the wQ and threatens 2. Qh1+ Kxf5 3. N2d4#. This also follows on 1.. exf2, Nd2. On 1.. Kxd5, Kxf5 2. Qh1+, Ng7+; 1.. Nc6 2. Qb1+; and on 1.. g5, c5 the quiet 2. Nxc7, Ng7. Reprinted in "Soviet Chess Compositions (1945-1947)" (1949).

Лев Ильич Лошинский (* 17.1.1913 in Warsaw, † 19.2.1976 in Moskva) Russian composer and Grandmaster, see wikipedia de, el, fi, fr, it, lv, ru. "Lev Loshinsky was perhaps the greatest composer of threemovers." "Il est considéré comme un des plus grands problémistes russes. Spécialiste des problèmes orthodoxes en 2 et 3 coups, il remporta les neuf premiers championnats soviétiques de composition de problèmes en 3 coups (de 1945 à 1968) et quatre championnats de composition dans la catégorie des problèmes en deux coups (1947-1948, 1949-1952, 1953-1955 et 1959-1961) ainsi que le championnat de 1965-1966 dans la catégorie des problèmes en plus de trois coups. Lochinski était professeur de mathématiques à l'Université de Moscou."
Depuis l'ouverture en octobre 2000, j'ai publié en ligne plus de 6650 problèmes d'échecs gratuits. Si vous voulez plus de détails, jetez un coup d'oeil à ma page de statistiques.
Connexion
Search
Navigation
Bruno's
Chess Problem of The Day


(c) 2000-2021 My-Free-Games.com .. Vie privéeTous droits réservés. Toute réutilisation de toute ou partie du site nécessite l'autorisation de l'administrateur.