Problème de la veille
Vous aimez les échecs ? Venez tous les jours découvrir et essayer de résoudre ces problèmes de mats gratuits. Ces problèmes d'échecs vous aideront à améliorer votre tactique.
Bruno's Chess Problem: 20/02/2019
K.Mlynka, 4eme HM, Breyer Memorial, 1973
Mat en 2 (***)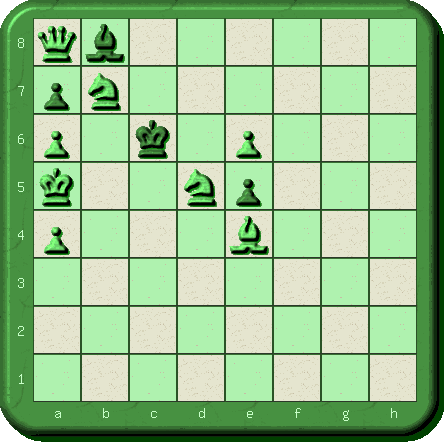 Les blancs jouent
Astuce :
Vous pouvez changer l'aspect de l'échiquier (menu Anciens/Préférences)

1. Kb4

!

Bd6+ 2. Nc5

#


1... Bc7 2. Qe8

#





2019-02-20 13:46:18, by

slowbut2

before my seeing comments: My solution [submitted in a style the honorable problemist was imitating on 2018-11-09 08:29:17]: to guard black spot again to mate with queen [or bishop] after some black move, white's kbfour start

2019-02-20 05:46:53, by

problemist

Mutate, the set mates 1.. Bc7+, Bd6 2. Nb6#, Qe8# are changed reciprocally in the solution. 2. Qe8# is transferred to 1.. Bc7 and on 1.. Bd6+ the N-move to c5 interposing the check and mating by discovered check. 2 stars suffice.

Karol Mlynka (* 11.8.1944 in Kozárovce) Slovak composer and FIDE Master. "Karol Mlynka is a twomover and fairy composer. Juraj Lörinc summed it up on his website:

Teacher of Slovak and German languages. Known Slovak composer, he composes since 1961, inventor of Mlynka theme (cyclic change of defence motives of 3 defences in 2 phases) as well as many other original themes from the field of so called Slovak school. International judge FIDE since 1987 and FIDE master since 1990. In recent time he works well in Pat a Mat redaction, where he is editor for #3.

Karol Mlynka also invented the Supertransmuting King and has already composed many problems with this fairy piece. The definitions and some examples can be found also on Juraj Lörinc's website. Karol Mlynka's book "100 selected chess compositions" can be downloaded from selivanov.ru." [Today's problem is listed as No. 92 in the book "409 Selected Chess Compositions of Karol Mlynka" by Gabriel Török (also available online).]
Depuis l'ouverture en octobre 2000, j'ai publié en ligne plus de 6650 problèmes d'échecs gratuits. Si vous voulez plus de détails, jetez un coup d'oeil à ma page de statistiques.
Connexion
Search
Navigation
Bruno's
Chess Problem of The Day


(c) 2000-2019 My-Free-Games.com .. Vie privéeTous droits réservés. Toute réutilisation de toute ou partie du site nécessite l'autorisation de l'administrateur.