P.Einat, T.Tauber, 1st Pr., Graz Thematic Tourney, 1987
Mat en 2(**)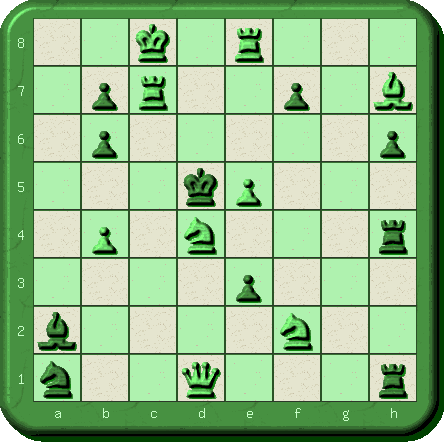 Les blancs jouent
Astuce :
niveau : * (très facile) à ***** (très difficile)

1. Bd3

!

... 2. Rd7

#


1... Kxd4 2. Bf1

#


1... Rxd4 2. Be4

#




2018-10-21 12:51:15, by

slowbut2

before my seeing comments: My solution: to mate with rook [or queen\bishop] after some black move, white's bdthree is start

2018-10-21 09:53:07, by

problemist

Shown are changed mates in three phases: 1. Nd3?, Qe2? f5!, Rc1! and the solution (key by the wB, threat 2. Rd7#) for the defenses 1.. Rxd4, Kxd4 (3x2 Zagoruiko). In all phases the key destroys the white NQ-battery (destroying a white battery with the key was probably the theme of the tourney) and gives the flight square d4. From a quick composing tourney at the WCCC. Still the problem made it into the FIDE Album. Reprinted as A99 in in the anthology "Israeli Chess Problem Art 1932-2010" edited by Ofer Comay, Gady Costeff, and Paz Einat (2nd edition 2012).

Paz Einat (* 7.11.1956 in Hadera) Israeli composer and International Master. "Paz Einat composes direct mates, helpmates and fairy problems. He is an International Judge for direct mates in 2 and 3 moves. He often composes in collaboration with Ofer Comay."

Theodor Tauber ( * 18.8.1950, † 3.9.2013) Israeli composer. "Theodor Tauber was an International Judge and composes fairy twomovers and helpmates. He was the inventor of the fairy conditions Heffalumps and BiHeffalumps described on his website by Juraj Lörinc. He composed many problems in collaboration with Shlomo Seider."