L.I.Kubbel, Tijdskrift, 1937
Mat en 2(***)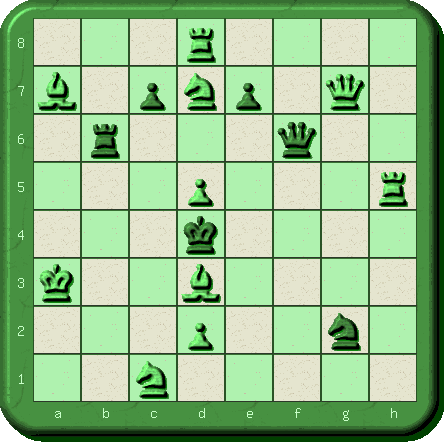 Les blancs jouent
Astuce :
La solution du problème de mat du jour est disponible à partir du lendemain.

1. Nf8

!

... 2. Ne6

#


1. ... c5 2. dxc6 e.p.

#


1. ... e5 2. dxe6 e.p.

#


1. ... Kc5 2. Nb3

#


1. ... Nf4 2. Qg1

#




2016-08-26 00:00:50, by

slowbut2

thanks for the info at 2016-08-25 13:19:55, by problemist

2016-08-25 13:19:55, by

problemist

For more biographical details on Leonid Kubbel see the articles in wikipedia de, en, es, fr, he, it, lv, pl, ru. - "Leonid's brothers, Arvid and Evgeny, were also chess players. Arvid Kubbel was a strong over the board master, having played in the first four USSR chess championships, while Evgeny was himself an endgame composer. Both Leonid and Evgeny Kubbel died of starvation in 1942 during the Nazi siege of Leningrad, while Arvid was executed by the NKVD in 1938."

2016-08-25 08:44:01, by

slowbut2

before my seeing comments: My solution: to knight mate\foresee p\n\k defenses, white's nfeight is start before mate with n\q\r\ \etc.

2016-08-25 07:29:10, by

problemist

The key gives the flight square c5 and threatens 2. Ne6#. The defenses 1.. Kc5, Nf4, c5, e5 are answered by mates of N (pin mate), Q (using the interference of the bQ), and two en passant captures. Note that for the symmetric 1. Nb8? the same variations would work, but there is no threat. Tijdschrift van den Koninklijken Nederlandschen Schaakbond.

Карл Артур Леонид Иванович Куббель (25.12.1891-18.4.1942), RUS. "Leonid Kubbel was a prolific and remarkable composer of endgame studies and problems. He was considered as one of the greatest study composers. He collaborated with chess magazines such as "Shakhmatny Listok" and published two compilations of his compositions during his lifetime. Alexandr Baturin wrote a compilation of 577 problems by Leonid Kubbel in 1958 "Избранные задачи Л. И. Куббеля." Timothy Whitworth published in 1994 his complete endgame works in "Leonid Kubbel's Chess Endgame Studies" (2nd complete edition, 2004). Yaakov Vladimirov and Yuri Fokin published in 1984 the soberly titled "Leonid Kubbel" including more than 700 problems and studies by K.A.L. Kubbel, a detailed biography and a critical apparatus."