J.Fritz, Narodni Osvobozeni, 1935
Mat en 3(***)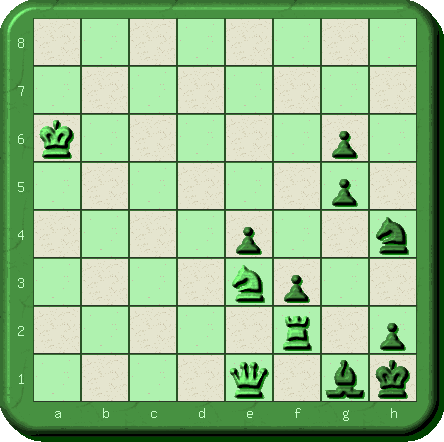 Les blancs jouent
Astuce :
niveau : * (très facile) à ***** (très difficile)

1. Ka5

!


1. ... g4 2. Rxh2 Kxh2 3. Qxh4

#


1. ... Nf5 2. Ng4 ... 3. Rxh2

#


1. ... Ng2 2. Nf1 ... 3. Ng3

#




2018-02-16 07:24:42, by

problemist

Bohemian Meredith without any wPs. On 1. Ng4?, Nf1? Black can defend by 1.. Ng2!, Nf5! but if Black moves first there are 1.. Nf5, Ng2, g4 2. Ng4, Nf1, Rxh2+ ~, ~, KxR 3. Rxh2#, Ng3#, QxN#. So what is needed is just a waiting move for White. It seems there are plenty of them by the wK, but it turns out that in view of N-check after 1. Kb7?, Kb5? Nf5! 2. Ng4 Nd6+ and of pins of the wR by bBg1 after 1. Ka7?, Kb6? there is only one out of five K-moves that works which is the key. A spectacular problem. Who would have guessed initially that the far away wK plays a decisive rôle in the solution?

Jindřich Fritz (*15.6.1912 in Praha, +9.11.1984 in Praha), Czech composer and Grandmaster, see wikipedia de, fr, it, lv, ru. "Jindřich Fritz was an endgame study and problem composer. In 1951 he became the editor of the studies column of Československý šach. He wrote several books, such as "Moderní šachová studie : Úvod do theorie a skladby" (1951), "Šachová studie" (1954) and "Vybrané šachové problémy" (1979) which contains 252 of his endgames and 50 of his problems." By profession he was a lawyer with a doctor's degree.